On Tuesday, the United States seized a total of 36 Iran-affiliated websites that were in violation of U.S. sanctions.
33 of the websites were used by the Iranian Islamic Radio and Television Union (IRTVU) and 3 were operated by the Iran-backed militant group Kata'ib Hezbollah (KH), according to a statement by the U.S. Department of Justice. 
Both KH and the IRTVU have previously been designated as Specially Designated Nationals (SDN). As SDNs they are not allowed to use services from the U.S. including website and domain names without a license from the Office of Foreign Assets Control (OFAC).
The IRTVU, found to be owned/controlled by the Islamic Revolutionary Guard Corps Quds Force (IRGC), and KH, a designated Foreign Terrorist Organization, both used domains owned by a company in the U.S. and without having OFAC licenses.
Among the sites seized are the Iranian state-controlled newsgroups Press TV and Al-Alam, according to AFP.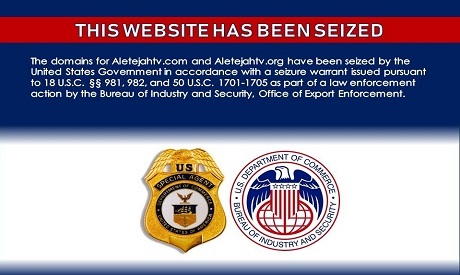 The U.S. Embassy Beirut was not immediately available for comment or information on whether or not the United States had plans to block Iran-affiliated sites in Lebanon such as Hezbollah's Al-Manar TV station and site.
---
Our team works tirelessly to ensure Lebanese people have a reliable alternative to the politically-backed media outlets with their heavily-funded and dangerous propaganda machines. We've been detained, faced nonstop cyber attacks, censorship, attempted kidnapping, physical intimidation, and frivolous lawsuits draining our resources. Financial support from our readers keeps us fighting on your behalf. If you are financially able, please consider supporting The961's work. Support The961. Make a contribution now.