A video of people in Lebanon rallying and cheering for Syrian President Bashar Al-Assad has prompted some expected criticism online.
With the Syrian presidential elections slated later this month, Al-Assad along with two other candidates are in the running for the presidency. Granted, the majority of the world deems the elections as a "farce" as Reuters put it.
But while sights of pro-Al-Assad rallies are to be expected in Syria, where the majority of remaining residents in major cities are supporters of the Syrian ruler, in Lebanon, it's a completely different story.
Since the onset of the Syrian civil war and with atrocities committed against the revolting Syrian people in Al-Assad's regime, countries around the world experienced an influx of refugees fleeing their war-torn homes and escaping lethal death.
This refugee crisis is most prevalent in Lebanon, which has been home to 1.5 million Syrian refugees, many of whom lost everything back in their home country.
Moreover, Lebanon suffered for decades because of Al-Assad's regime, its hand on the economy, its iron grip on the Lebanese politics, its army and wars against the Lebanese across the country, the trail of deaths its army left behind, and the countless of still-missing Lebanese taken to Syrian jails during the Civil War.
The Lebanese nation had to revolt in a massive peaceful demonstration, known as the historical Cedar Revolution, to force the Syrian army of Al-Assad's regime out of Lebanon.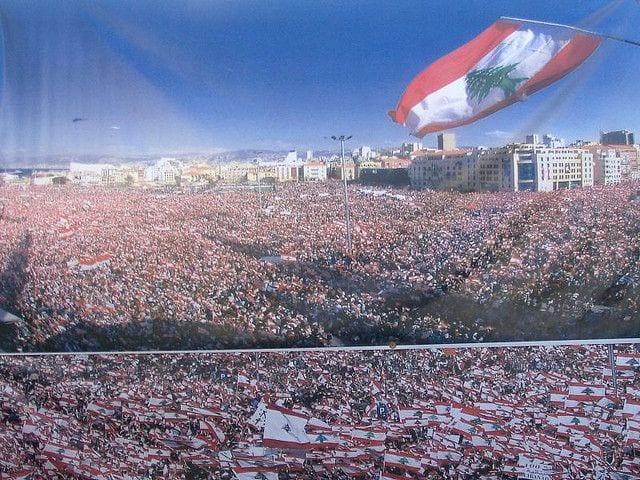 In more recent times, Lebanon, which has been under extreme duress due to its multiple crises, was the target of Bashar Al-Assad's public accusations for the collapse of Syria's economy.
Hence, when a video showed people in Lebanon supporting him, viewers were baffled.
"In Lebanon, yes, in Lebanon, rallies in support of Bashar Al-Assad. If Syrians, they better return to Syria, and if Lebanese, better give up the Lebanese nationality and go and live with a butcher," wrote Lebanon The Dream, a local activist page.