The Lebanese have been creative in their initiatives to express their support to health workers and coronavirus patients.
In addition to the various campaigns aiming at easing the health workers' daily struggles, like providing them with free housing and transportation, they also came up with loving gestures involving flowers, free food, bridal dresses, and concerts outside hospitals, among others.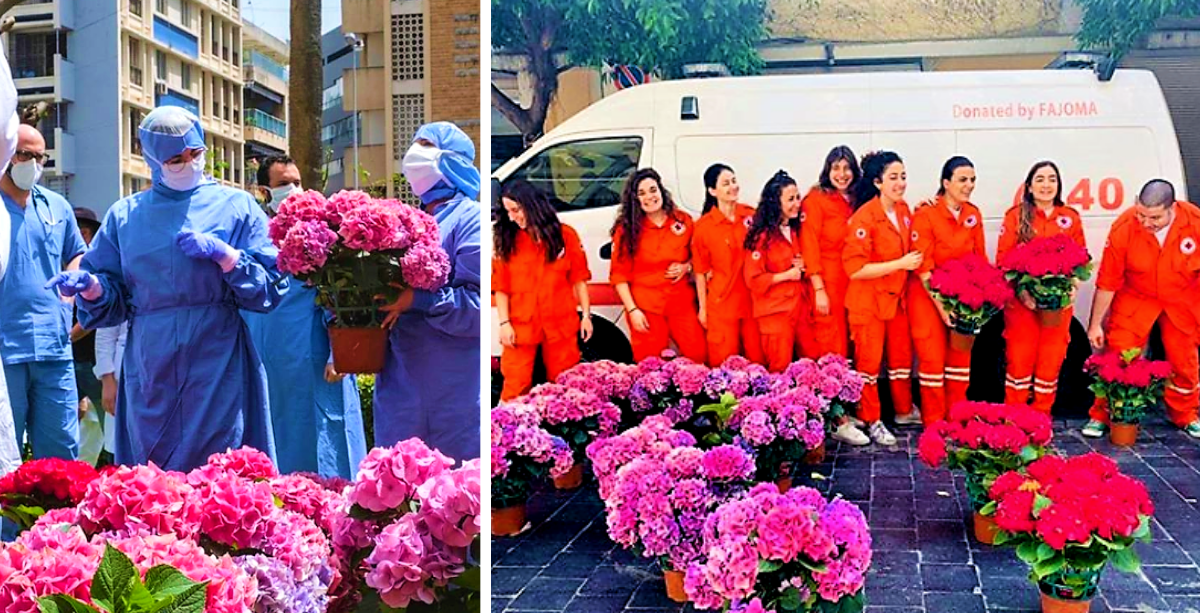 The Ahla Fawda non-profit organization is among these people who have been allocating great effort to morally support health workers and COVID-19 patients in Lebanon, by entertaining them.
Run by volunteers, Ahla Fawda, which literally means the most beautiful chaos, aims to be proactive in improving the community.
On Instagram, it states that its mission is to "create positive energy and help in making a difference." This is precisely what these individuals have been doing.
This team organized a concert outside the Maounat hospital in Byblos and the Governmental Hospital in Tripoli.
The band, consisting of Joy Fayad, and Aziza and Oliver Maalouf, performed several popular Lebanese and foreign songs on a crane. This crane had a banner hanged on it that said: "We'll Get Through This Together."
Their objective behind this 'Musical Road Trip' was to show those heroes that they are not alone and that the Lebanese people deeply cared for them.
Apparently though, the medical staff really needed this distraction.
Beautiful videos circulated the internet of them dancing and having fun, and we can guarantee that these videos are the most heartwarming things you'll see all day.
Notre-Dame de Secours Hospital – Byblos
Saint-Georges Hospital
Their artistic tour didn't only consist of music. Joy and happiness aren't the only imprints they left behind that day.
Another volunteer, Ghiath Al-Robih, left an amazing piece of art at Tripoli's Governmental Hospital; a wall painting that acknowledges the role doctors and nurses in saving the planet.
Noting that Ahla Fawda previously held successful surprise concerts outside Rafic Hariri University Hospital where the staff had a blast and all the patients watched from the balconies.
We have a dedicated coronavirus section where you can find the latest news/updates about the pandemic in Lebanon, inform yourself with WHO-verified resources, and track the number of cases in Lebanon in real-time. Click here.