Six years ago, a tragic accident left Lebanese-American Jessica Tawil permanently paralyzed and wheelchair-bound. Today, she is going viral for her resilience and bravery, and for spreading awareness about paraplegia on TikTok.
Like many, Tawil, who is a T6 paraplegic, initially downloaded TikTok for fun. She started posting about what happened to her after feeling inspired by other TikTokers who were sharing their own stories.
"As I continued scrolling through the For You page," she told The961, "I couldn't help but notice how raw a lot of people were; so I figured: 'Why not speak my truth and tell my story?'"
Little did she know she would receive massive recognition. Despite being on the app for only around 3 months, she already has nearly 1.4 million followers!
How it happened
"The person that was supposed to be my 'friend' invited me over to her house. I was under the impression that we were just going to hang out."
However, her friend had invited men that Tawil, who was only 16 at the time, had never met before. They brought alcohol, drugs, and paraphernalia with them.
Eventually, she asked to be driven back home, but instead, they took her to an abandoned road, one that was infamous for its "haunted" stories.
"When we got to this road, the driver stopped the car and put his foot on the gas and brake at the same time doing a burnout with his wheels. He lost control of the car and crashed into a tree."
"It was at this moment that I got whiplashed, split my head open to the point where my skull was exposed, and sustained a spinal cord injury, leaving me paralyzed the moment we crashed."
"Paramedics said that I lost the equivalence to a 'Coca-Cola bottle of blood' out of my head, and didn't think I'd make it if they drove me to the hospital. They drove me to a nearby soccer field where a helicopter airlifted me to the ICU."
"From there on, I went through 7 months of rehab and remained permanently paralyzed and wheelchair-bound."
Worst yet, she felt that she was never compensated for her terrible experience and that justice was never served for what she had to go through.
Life after the accident
"I was initially hopeless," she confessed.
She would often tell her mom, "What purpose is there for me to live if only half of my body works? No man would marry me, no job would hire me. I'm nothing."
"As the years went on, I started becoming a little bit more faithful, and God turned out to be the only thing I found solace in. When I prayed, I felt a little bit better about my situation, even though I fantasized about walking again very often," she said.
Additionally, her family pushes her on a daily basis, she told us. "When I was first injured, I used to lock myself in my bedroom and cry every day. It got to a point where they would force me to go out and be interactive, and it actually helped me [to be] so much more extroverted. I only have them to thank."
With sheer resilience, she has been able to accomplish some of the things she never thought she would.
"I never thought I'd be able to attend a 4-year university on my own, in a wheelchair. I never thought I'd be courageous enough to even pursue my studies because I was ashamed of my mirror-image," she told us.
"Now, I'm 2 months away from receiving a bachelor's in pre-professional biology with a concentration in human physiology, with a minor in chemistry and a minor in Arabic."
"I also never thought I'd ever be able to get into relationships, start driving (I'm in the process of learning), and be able to intern and volunteer at a hospital nearby."
"The idea of having anyone depend on me sounded so far out of reach, but I was able to prove myself wrong every single time. I'm capable of so much more than people (and my own self, sometimes) think I am."
Tawil feels like she was not only robbed of her legs but also of her ability to do basic human things like use the bathroom normally, being dependent on catheters and enemas, or feel sexual intercourse.
She adds that making friends is extremely difficult for her as people see the chair before they see her, which she feels makes her unapproachable.
In addition, if she hurts her legs she can't feel it and would have no idea. She can't drive in a conventional way. And worst of all, she suffers daily from autonomic dysreflexia, a life-threatening emergency that affects people with spinal cord injuries at the T6 level or higher.
Every single day of her life, her body attacks itself "because it is in complete confusion," she said. "For example, if I do not use the bathroom on time, my blood pressure will skyrocket, I will start sweating profusely, have shortness of breath, and turn extremely red. In short, if I go long hours without using the bathroom, I could potentially die."
Taking to TikTok 
Tawil wants people to know how she lives her daily life and share what life is like for a wheelchair user. She also wants the channel to act as a personal blog so people can get to know her on a personal level.
"When posting, I not only wanted to speak my truth (because the justice system failed me) but I also wanted to be the voice inside a young girl's head when making a fast and questionable decision," she said, reflecting on her own experience going to an ill-fated hangout.
In one of her viral videos, she tries to teach people an exercise to show how it feels to be paralyzed and people were traumatized after trying it: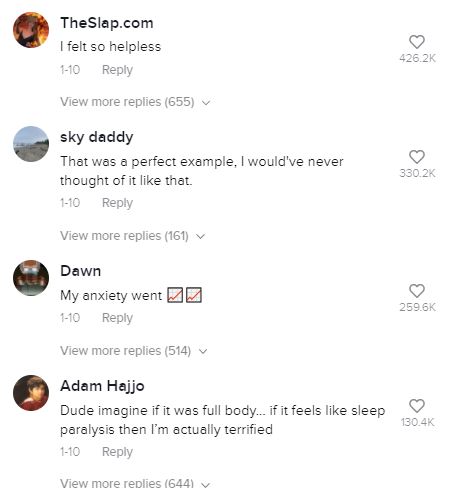 "Not many people know too much about paraplegics and their capabilities, so I wanted to be that light to inform, educate, and even entertain people! Out of the hundreds upon thousands of people that follow me, if I am able to directly affect one person, then I've done everything I've hoped of doing."
It's safe to say her videos are affecting millions. You can follow her and show her some love on TikTok and Instagram (jesstawil).