With all the chaos the country is enduring, Lebanon is still one of the go-to destinations. Even National Geographic named Lebanon one of the world's 20 must-see destinations in its  "Traveller's Cool List" for 2020, citing it number 3 after Namibia and Baja California. 
The Lebanese revolution has turned the world's eyes towards Lebanon and attracted the interest of famous foreign YouTubers. Only last month, a popular YouTuber called Chomad vlogged his experience in Lebanon.
Three months ago, it was the English YouTuber Jordan Simons who made it all the way to Lebanon to visit the revolution. He came out exclaiming: "It's cool… it's quite epic! This is how protests should be done!"
Just now, on February 17th, the popular YouTuber Jacob Laukaitis uploaded a video that documented his recent 14 days in Lebanon during the revolution. 
Jacob travels the world, documenting his adventures in foreign countries, and has gained quite a popularity with almost half a million subscribers to his YouTube channel. 
This year, Jacob decided to spend 14 days in Lebanon against all warnings by his people that the country is dangerous, and he made it indeed. He states that his experience in Lebanon was "very very interesting" especially with all its protests and chaos.
In his video, which he named "My Daily Life in Lebanon," he started with Lebanon's rich history that "dates more than 7000 years."
Unlike previous vloggers who visited our country recently, Jacob did a beautiful and professional presentation of Lebanon's history, introducing our country to the world in its most fascinating turns of history.
He talked about the Phoenicians and their maritime culture, and all the cultures that conquered Lebanon, including the Roman and Persian Empires then by "the strong Muslim armies" and eventually the Ottoman Empire.
He spoke of the French Mandate of Lebanon and how WWII brought the Lebanese religious and political factions together to fight for Lebanon's independence. A quick yet interesting timeline that also mentioned the civil war to then reach to the present time of the Revolution.
Lebanon "boasts a very long and rich history," he said and that the earliest evidence of civilization dates back to over 7000 years. He spoke of Lebanon's renowned prosperity and how it became Switzerland of the East and Beirut the Paris of the Middle East.
Jacob also explained Lebanon's political system and how it was constituted to include all sectarian communities yet ended being inefficient because positions are assigned by sects and not expertise.
Jacob recounted how he experienced, right as he was leaving the airport, what he called one of the most unique experiences: Lebanese generosity, as "three taxis fought over who will take him to the center of Beirut.
Jacobs was taken in awe by the revolution and didn't retain his excitement while vlogging. He wanted to learn all about the Lebanese revolution and spent a lot of time talking with the revolutionaries on the streets.
What differs this Vlogger from the previous ones who had visited Lebanon is that he went deep in his quest to know all about the revolution and what it means to Beirut and Lebanon.
And so, he is now conveying to the world the voice of the Lebanese revolution, its pain, its ambitions, and its real causes.
He expressed his admiration towards the power of the Lebanese people, and their determination to bring the needed changes, especially the students that "were not holding back at all." 
During his 14 days' visit, Jacob also explored Lebanon's beautiful tourist sites, including Geita Grotto, Byblos, and Jounieh. Churches, abandoned hotels, Beit Eddine, Moussa Castle, and Baalbek, Jacob got the full Lebanese cultural experience in just a few days.
Everywhere he went, he ran into protests. He was extremely fascinated by the contradictions of Lebanon, where one minute he would be inside a protest and the next enjoying peaceful, quiet scenery.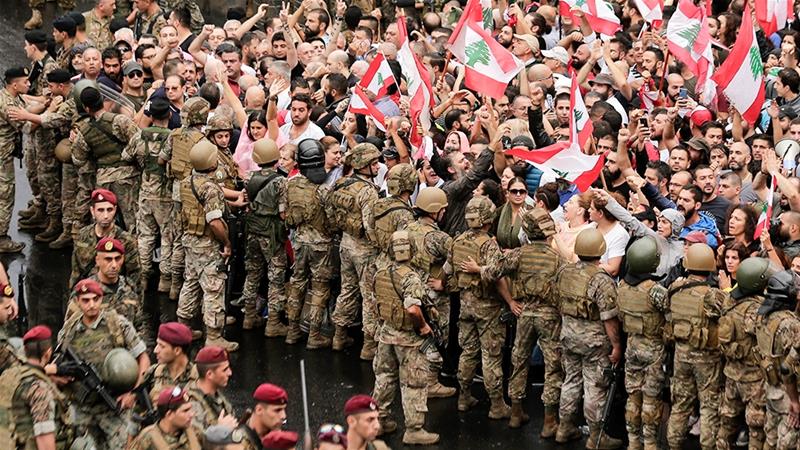 "This experience made me realize that Lebanon truly is a very beautiful country full of mind-boggling contrasts," he stated. He said feeling "very very happy" that the Lebanese revolution is an inspiration to more countries by the peacefulness and attitude of its people.
Jacob got also to witness one of the largest protests in Beirut and found himself in the middle of it. "Despite the intimidating graphite, everyone was so incredibly peaceful, I could hardly believe it," he shared in admiration.
Jacob could not leave without visiting Tripoli. "It's like a party but also a protest," he exclaimed from Nour Square. "People welcomed me like I was a long lost brother of theirs," he said.
Jacob ended his video in Qana where he expressed feeling happy and grateful for everything he has experienced in Lebanon. He finally wished the Lebanese people peace and happiness in whatever they do.
Enjoy his video, it's well worth it!
Thank you, Jacob, for paying our amazing country a visit, for sharing with the world all these positive comments, and for reminding everyone that Lebanon is at its best when its people are peaceful. And do visit again once the revolution is over.