After Lebanon's skies lit up for New Year's celebration, news started circulating on social media regarding the extraordinary recovery of a young mother in her twenties, Liliane Shaito, who was in a coma since Beirut's port explosion.
The positive news was shared by multiple media outlets and social media platforms, inciting hope and joy among the Lebanese people.
Hours later, the optimistic development was quickly refuted when news came up that Liliane has only shown slight improvements.
Her sister clarified to the media that Liliane is still not fully conscious. She can't talk, nor get up from her hospital bed, but she is able to move her hands and feet, which was an impossible case only months ago.
Liliane's name became trending on social media for a particular reason that goes beyond her coma and fueled people's outrage.
This is her story:
Liliane, an expat with her husband in Africa, came to Lebanon to give birth to her first child surrounded by her family. According to her husband, they were residing at his family's place in Lebanon. Two months after her baby boy's birth, she set out for the first time to go into Beirut alone, to do some shopping, including for a birthday gift for her husband.
That day was August 4th, the doomsday in which Beirut's port exploded, taking with it almost half the capital and hundreds of lives.
The shockwave of the explosion hit Liliane while in Beirut Souks, propelled her above the ground, and brought her crashing down over broken glasses of a just-wrecked store. Her injuries were so bad, her skull fractured, and part of her brain oozing out, that she was assumed dead on-site.
Amid the general shock and the apocalyptic chaos that ensued, Liliane was left unattended. According to her father, no one dared to help her because of the severity of her injuries, and "many thought she was dead."
"It happened that there was a kind woman next to her who felt her pulse and learned that she was still alive. She refused to leave her and called someone to help take her to the nearest hospital," he explained.
At first, the overwhelmed hospital refused to receive her as a result of her severe injury. "It was impossible for her to live," Liliane's father said, but her husband brought her inside the hospital by force and carried her to the operation room, saving her life.
However, Lilianne fell into a coma where her life came to a standstill for almost 5 months.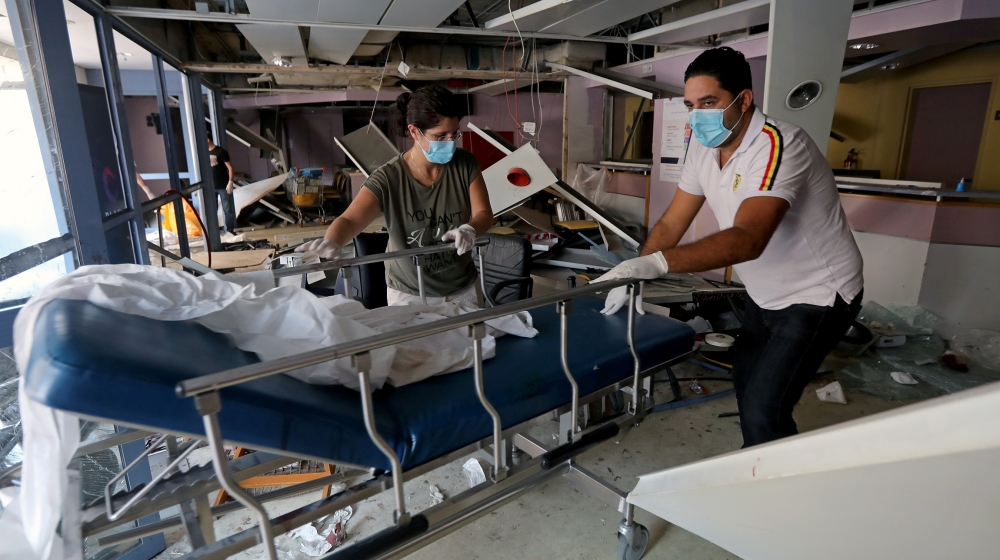 According to her sister Noelle, Liliane is now slowly recovering. She is able to open her eyes and move them and is able to look at who's talking to her directly. She's also able to open her mouth and digest food on her own, indicating positive improvement in her voluntary actions.
"It was a beautiful day when we told Liliane a joke thinking she can't hear us, but she laughed in response," Liliane's sister cheerfully told LBCI.
Unfortunately, Liliane's predicament extended beyond her severe injuries and months in a coma. While she was in a coma, her husband entrusted the child to his family, before leaving back to his work in Africa, reportedly considering Liliane to be brain dead due to her severe condition.
His family, though, took the baby and wouldn't let Liliane's family see him, nor would bring him to his mother. That's despite the doctors reportedly recommending his proximity to his mother to help with her recovery.
The case took social media by storm as the Lebanese public started calling for the baby to be returned to his mother. Her family, supported by the head of the Lebanese NGO Dignity, Joe Maalouf, had to fight for her rights on her behalf.
They managed to secure a court order forcing Liliane's in-laws to, at least, let the child visit the recovering mother four hours per day, as well as forbidding the husband and his family from traveling with the child outside the country.
According to Joe Maalouf, who communicated directly with the husband, there were no marital issues whatsoever between him and his wife before the incident. The husband simply thought the child would be in better care with his own family.
Or so he said.
It is to understand here that this is not a case of kidnapping by the in-laws as it would be viewed by the law in other countries.
Painfully so, Lebanese laws, across the various sects' courts, give more often than not child custody to the father, who could choose to place the child with his family or whoever he wants.
Somehow, the breeder of life herself has no right to her own children when a male is involved.
Such situations, as in cases of divorce, are numerous in Lebanon and continue to wreck the lives of mothers and their children in a patriarchal society ruled by prejudicial laws that have little to no consideration for women.
Liliane's story is one among many of these unfair ones Lebanon continues to witness. Luckily, after intense pressure from the public, her family, and Joe Maalouf, the case reached a judge of her sect who showed some clemency… yet granting her back her child for only four hours per day…