On September 21, 1991, the people of Armenia voted in a referendum to proclaim independence from the Soviet Union, announcing the establishment of what is known today as the Republic of Armenia.
In November of the same year, Levon Ter Petrosyan was elected Armenia's first President.
However, the Armenian history goes some five thousand years back in time. An ancient civilization, which people traded and mingled in the Phoenicia Land of our ancestors, and there has been an active Armenian presence in Lebanon for over a century now.
In today's Lebanon, and for decades, the Armenians constitute one of the country's prominent communities and a vital part of our nation.
According to Minority Rights Group International, there are 156,000 Lebanese-Armenians in Lebanon, which constitutes approximately 4% of the general Lebanese population. But, of course, numbers in Lebanon are always up for debate.
Prior to 1975, and to a large extent to this very day, Beirut was a center of Armenian culture with multiple media outlets and businesses maintaining strong ties with the Armenian diaspora. 
Just shy of Armenia's 28 years of independence, we wish to acknowledge some of our notable Lebanese-Armenians who have taken both cultures into the diaspora and have made us proud through their achievements across almost every sector.
#1 Anis Garabet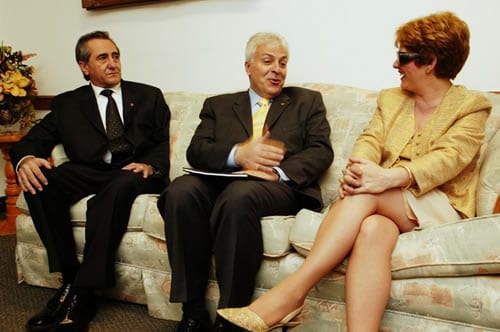 A Lebanese-Armenian Engineer, born on May 5th, 1952, in Beirut, Anis Garabet migrated in 1972 to the United States with his family.
In 1978, he earned a B.S. in Civil Engineering from the New Jersey Institute of Technology (NJIT) and in 1980, a Master's Degree in Seismology from the University of Southern California (USC).
In 1982, he earned the Professional Engineering license from the State of California. In 1989, he joined the staff of NASA's space shuttle program working for Rockwell International.
He received an award from Columbia's first mission astronauts John Young and Robert Crippen for successfully testing the Thermal Protection System for the space shuttle. 
#2. Haroutune K. Armenian
The need for institution building and paradigm shift in health services in Armenia from Voice Of Armenians TV New York on Vimeo.
Haroutune K. Armenian is a Lebanese-Armenian Medical Doctor born on June 18, 1942, in Beirut.
A Professor Emeritus at Johns Hopkins University, Dr. Armenian currently serves as President and Dean of the College of Health Sciences for the American University of Armenia (AUA) and has done so since 1997.
He has received numerous awards throughout his distinguished career for his research, and more specifically for studying the effects of the Lebanese Civil War at the population level, as well as his research on cancer and psychopathology.
He has published more than 100 journal articles in prestigious international publications on various subjects relating to epidemiology and public health.
#3. John Dolmayan
John Dolmayan, born in Beirut in 1972, is a Lebanese-Armenian-American songwriter and drummer. 
He joined the famous heavy metal band System of a Down in 1997 and he recorded five albums with the band: System of a Down (1998), Toxicity (2001), Steal This Album! (2002), Mezmerize (2005), and Hypnotize (2005).
When the band went on hiatus in 2006, Dolmayan teamed up with the band's guitarist and vocalist Daron Malakian and formed a new band called Scars on Broadway, which recorded their eponymous debut album in 2007 and 2008. 
In August 2009, Scars on Broadway traveled to Iraq for a USO tour across the U.S. army bases. 
#4. Serouj Kradjian
An internationally renowned pianist, accompanist, and composer, Serouj Kradjian was born in Lebanon to Lebanese-Armenian parents in 1973.
He moved to Toronto, Canada, as a teenager, and went to pursuing music studies at the University of Toronto, where he received a B.A. in Piano Performance. 
He completed his postgraduate studies at the Hochschule für Musik in Hanover, Germany and then resided for several years in Madrid, Spain.
It is then and there that he founded and directed the Camerata Creativa, and where he met his future wife, the also very-famous Isabel Bayrakdarian, an opera singer born in Lebanon.
Kradjian's discography includes the acclaimed Transcendental Etudes and Piano Concerti by Franz Liszt, and Robert Schumann's three sonatas for violin and piano (with Ara Malikian).
With Isabel Bayrakdarian, he recorded songs by Pauline Viardot-Garcia, which brought both artists international accolades and a 2006 Juno award for 'Classical Album of the Year.'
With the Amici Chamber Ensemble, of which he is co-artistic director, Kradjian has recorded Armenian Chamber Music and Levant, which won in 2013 the Juno for 'Best Classical Recording.'
#5 Arsinée Khanjian 
Born 1958 in Beirut to Lebanese-Armenian parents, Arsinée Khanjian is famous Canadian actress and producer. She is married to Canadian filmmaker Atom Egoyan, who regularly casts her in his films, in addition to her independent work and stage roles.
She earned her Bachelor's Degree in French and Spanish from Concordia University in Montreal and a Master's Degree in Political Science from the University of Toronto.
Arsinée's husband Egoyan credits her for inspiring him to further explore his Armenian roots. In addition to starring in his films, Khanjian has made a name for herself on television and the stage.
Her filmography includes: The Adjuster (1991) and Calendar (1993), an uncharacteristic comedy in which Khanjian played a translator opposite Egoyan.
In 1994, the prize-winning success of Egoyan's Exotica at Cannes helped to introduce the actress to a wider audience.
#6 Isabel Bayrakdarian
Born 1974 in Zahle, Lebanon, into a Lebanese-Armenian family, Isabel Bayrakdarian moved to Canada as a teenager, graduating from the University of Toronto in 1997 with an Honors Bachelor of Applied Science in Biochemical Engineering.
She initiated her opera singing career, bursting onto the international scene at winning the first prize in the 2000 Operalia competition founded by Plácido Domingo.
Isabel went on performing on the world's top stages and was honored with four Juno awards, Canada's highest recording prize.
She's the singer you hear on the soundtrack of The Lord of The Rings: The Two Towers, and the multiple award-winning Canadian movie "Ararat."
#7 Guy Manoukian
Born in Beirut, Lebanon in 1976, Manoukian is a Lebanese-Armenian musician, composer, and pianist. He was also a basketball player in the Lebanese Basketball League for Homenetmen Beirut basketball club for a while before he retired from it altogether. 
Manoukian has worked with some of the biggest names in the US. His fusion of oriental melodies with modern arrangements has given him an international platform.
It made him one of the most unique faces in music, selling out concerts in London, Singapore, Cairo, Dubai, Kuwait, Abu Dhabi, Los Angeles, Yerevan, Sydney, Byblos, and Beirut to name just a few. 
Guy Manoukian started playing piano at the age of four. He first appeared on television when he was six years old and was only seven when he performed at the Lebanese Presidential Palace. He started composing music a year later, winning his first competition.
Manoukian is still selling out at arenas and stadiums all around the world, with his most famous show in Lebanon being his Valentine's Day performance – one of the most successful and prestigious events on that day in Lebanon.
#8 Gretta Taslakian
Born on August 16, 1985, in Ghadir, Lebanon, Taslakian is a Lebanese-Armenian sprinter who specializes in the 200 meters sprint. She is the first Lebanese woman to participate in two and three Olympic Games.
She is actually the current Lebanese national record holder in the outdoor 100 meters, 200 meters, and 400 meters. She also holds the record for the 60 meters. 
Taslakian won two gold medals for Lebanon in the 2007 Pan Arab Games in Cairo, Egypt, and achieved her personal best in the 200 meters is 23.56 seconds in the final of the 200 meters in November.
She represented Lebanon at:
the 2007 World Championships; the 2008 Summer Olympics;
the 2010 Asian Indoor Athletics Championships;
the 2011 Pan Arab Games, winning a silver medal in the 100 meters and a gold medal in the 200 meters;
the 2011 Asian Athletics Championships, taking home a silver medal
the 2012 Summer Olympics –
#9 Paula Yacoubian
Born on April 4, 1976, in Beirut, Lebanon, Yacoubian is a Lebanese-Armenian politician and law-maker. She gained her fame and prominence as a journalist and a television host, and she is one of Lebanon's most popular and internationally recognized television personalities.
Throughout her career, she had worked as a host in a number of Lebanese and pan-Arab international television stations.
Paula became one of the experts chosen by the World Bank Group as a member of their External Advisory Panel for Diversity and Inclusion as a result of her advocacy for women's rights, her efforts for women empowerment, as well as for being a fierce defender of electoral women quota and a fair electoral law in Lebanon.
Last year, she received the Order of the Crown from King Philippe of Belgium, one of the highest national order in Belgium.
She announced her candidacy for the 2018 Lebanese Parliamentary Elections, running for the Armenian Orthodox seat in the Beirut I constituency. She currently serves as one of the only 6 women in the Lebanese Parliament.
#10 Krikor Agopian
Multi-award winning artist in Visual Arts based in Canada, Krikor Agopian was born in Beirut on December 14, 1942.
His amazing talent was revealed during his studies of engineering in 1967 at Concordia University in Montreal, Canada, leading his professor to push him towards design and arts instead.
Krikor went then studying as well at the Washington School of Fine Arts in Washington, DC.
By 1972, back in Lebanon, Krikor became a university professor in arts, teaching consecutively in various prominent universities in Lebanon, and that until his return back to Canada in 1985. 
Krikor held some forty individual exhibitions in Beirut, Canada, and the USA. That in addition to his participation in over 250 group exhibitions in Canada, the United States, Europe, and the Middle East.
Known as a master of the trompe-l'oeil style and the airbrush painting technique, Agopian earned numerous awards, and his artwork can be found in many museums, private and public collections, and art societies. And his creativity continues to date!