The Lebanese writer, director, and producer Mohamed Soueid has selected 15 AFAC-supported fiction and documentary films to be screened on the Aflamuna streaming platform during May.
Soueid's selection for this five-week program aims to showcase films from different genres, and themes to reflect on the diversity of the works supported by the Arab Fund for Arts and Culture (AFAC) for the last 15 years.
Here are the four Lebanese films that will be screened this month:
Erased, ___Ascent of the Invisible, by Ghassan Halwani
Written and directed by Ghassan Halwani, Erased, ___Ascent of the Invisible is an essay-documentary revolving around the thousands of people who had disappeared during the Lebanese Civil War.
74, The Reconstitution of a Struggle, by Rania and Raed Rafei
Between March and April 1974, students at the American University of Beirut (AUB) occupied the university's offices for 37 days to protest against the tuition increase.
Fast forward to 2011, during the Arab Spring, the two filmmakers Rania and Raed Rafei decided to reconsider the present events.
With the protests in 1974 as their starting point, the filmmakers filmed a documentary on the important issues of revolution and democracy.
Waves' 98, by Ely Dagher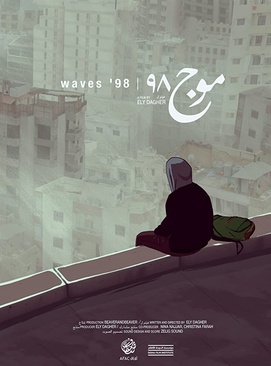 Disappointed with his life in the suburbs of Beirut, Omar started discovering the depth of the city.
Influenced by something so close yet so far from him, he loses track and finds himself struggling to feel at home.
Tadmor, by Monika Borgmann and Lokman Slim
Amid the Syrian uprising against the regime in 2011, a group of former Lebanese detainees decide to break their silence and voice out the horrific events they endure imprisoned in Tadmor, one of the Assad regime's most dreadful prisons.
They decide to publicly express the torture and humiliation they experienced, as a way to overcome their dark years.
Lokman Slim was a Lebanese political activist, publisher, and political commentator, who produced acclaimed films.
He co-founded Umam Documentation and Research, archiving historical and cultural materials related to Lebanon's political and social history, with a particular interest in the Lebanese Civil War and its effects on the country.
He was assassinated on February 4th, 2021 for his freedom of opinion. Justice remains unserved to date.
For more about this outstanding personality, read: Who Was Lokman Slim.
To watch the Lebanese films, visit Aflamuna Online.