Lebanese President Michel Aoun has made multiple "warnings" in the past that corrupt politicians would be brought to justice. And it looks like these statements have not stopped yet.
Just now again, he warned that "anyone who plunders the treasury" will be taken to trial, saying that Lebanon has entered a "new stage" after the government gained the Parliament's long-awaited vote of confidence.
President Aoun discussed again that matter of corrupt politicians during his meeting at Baabda Palace on Wednesday with a delegation of Honorary Consuls in Lebanon led by Joseph Habis, the Dean of the Consular Corps in the country.
He stressed the need to crack down on corruption, stating: "Anyone who plunders the treasury will be taken to trial in accordance with the laws, and under a court specializing in financial crimes involving public money."
He further insisted that Lebanon's financial and economic crises "require measures that will be relatively painful for the Lebanese," and stressed that "a new stage has begun after the government gained confidence."
Lebanon's newest Prime Minister Hassan Diab's Cabinet finally gained its vote of confidence from the majority of Lebanon's Parliamentarians who attended the session.
63 legislators voted in favor, 20 did not give a vote of confidence and one abstained.
President Aoun currently still sits in the Presidential seat, and Berri still serves as Lebanon's Speaker of Parliament amid a confusing time of alleged "reform" to the political elite and the corrupt system Lebanon has endured for years.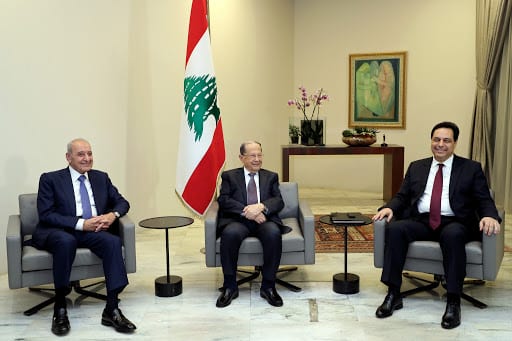 With people on the streets still demanding for justice, truth, and fair representation amid the government's preoccupation with a dwindling currency and economy, will this just blow over like everything else?
Will they expect the Lebanese people to settle for the shallow changes made to the political structure? Diab's Cabinet has yet to prove anything, but in all fairness, it has just gotten the legitimacy to.
President Aoun has made promises to fight corruption for years, but somehow, that decision is not solely his at this point.