In an extra effort to urge people to abide by the imposed lockdown, the Lebanese Army flew their helicopters over various cities on Tuesday, throwing leaflets to warn people about coronavirus.
The leaflets urged them to stay inside and abide by the lockdown, which many have been defying, including businesses and popular markets opening up to shoppers, like seen in Sabra Souk in Beirut.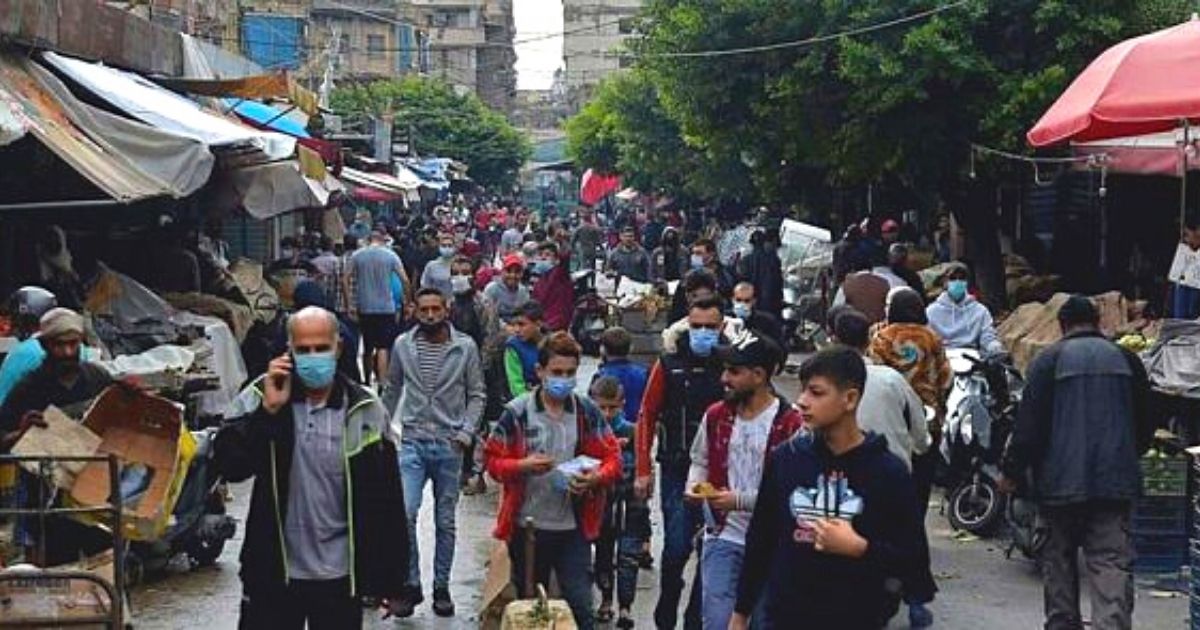 According to locals reporting, that scene has been also seen in other popular souks in Lebanon, where residents and the markets are defying the 2-week-long full-lockdown and the preventive measures.
Moreover, the authorities have issued thousands of fines since the start of the new lockdown on Saturday for related violations.
The Lebanese Army tweeted a statement announcing this new effort, calling "on citizens to adhere to the procedures of general mobilization and adhere to home quarantine through leaflets dropped by helicopters over Lebanese regions."
The tweet included a video showcasing the army dropping pieces of paper over cities.
In spite of the good intention behind the Lebanese Army's endeavor, it failed to realize the littering it has caused as a significant amount of papers dropped on the streets and the people's lands.
This is not the first time the Lebanese Army flies its helicopters to call on people to stay home during the pandemic. But this time, residents were quick to take to social media to criticize this double-edged campaign and its consequences on the environment.
"I can't believe you spent time and money on every single bit of this useless video," one Twitter user wrote.
"Use news bulletins, television, radio, the internet, or even newspapers… Why throw away paper from a plane?" Another social media user commented.
Lebanon's cities have been suffering from garbage piling up in the streets due to government mismanagement, and the dropping of these leaflets from the sky couldn't naturally be well seen by the people.
The lack of a comprehensive solid waste management strategy in the country has been incurring huge environmental and public health costs, according to the Waste Management Coalition and Human Rights Watch.
"Rights groups and environmental experts have been warning Lebanese decision-makers for years that Lebanon's waste management practices are not sustainable," said Aya Majzoub, Lebanese researcher at Human Rights Watch.
"The costs of inaction are huge, and residents are being denied their right to health and a healthy environment every day this crisis goes unaddressed," she pointed out.
Therefore, people deem that, instead of contributing to reducing the amount of waste, the Lebanese army has just increased it by throwing away useful paper on the cities' streets and people's lands.
That's to add that people are more reachable these days via social media, TV, and online publication than prints, most of which won't be picked up from the (dirty) streets to be read, especially that most people are at home during lockdowns.
Obviously, whoever came up with the idea and gave the order didn't think it well through despite the good intention.
We have a dedicated coronavirus section where you can find the latest news/updates about the pandemic in Lebanon, inform yourself with WHO-verified resources, and track the number of cases in Lebanon in real-time. Click here.
---
Our team works tirelessly to ensure Lebanese people have a reliable alternative to the politically-backed media outlets with their heavily-funded and dangerous propaganda machines. We've been detained, faced nonstop cyber attacks, censorship, attempted kidnapping, physical intimidation, and frivolous lawsuits draining our resources. Financial support from our readers keeps us fighting on your behalf. If you are financially able, please consider supporting The961's work. Support The961. Make a contribution now.