In a shocking incident, Al-Jadeed journalist and news anchor Clara Geha and her husband, lawyer Jimmy Hadchiti, were assaulted by members of the Lebanese Internal Security Forces (ISF) in broad daylight and in front of their little children.
In a video, Clara explains the incident that took place after she and her husband made a quick stop at a store in the Chiyah neighborhood in Beirut.
First, she admits that they double-parked, just like many of the other cars in the area. This is unfortunately common and normal in Lebanon and it is something the citizens just live with.
That didn't stop Clara from being approached by an officer to move her car, while her husband was quickly picking something up. Clara says that she told the officer that it would be just a moment before her husband comes back and that she pointed out that many other cars were already parked in the same way.
This infuriated the officer. He yelled in her face to move the car saying, "Who do you think you are?!" He only became angrier after Clara explained that she was a reporter for Al-Jadeed.
According to Clara's account, the officer began to curse the station and its owner, Tahseen Khayat, with vulgar words and foul language in front of the children.
In addition to that, he started taking a video of her and the car. At the same time, Clara, with her journalistic instincts, started videotaping the incident.
When her husband came back, she told him what had happened. She was naturally startled, shocked, and confused.
Jimmy walked over to the officer to ask why he acted the way he did and why he videotaped his wife.
This is when a second officer hurls himself towards Jimmy and slams him in the head with a helmet and both officers reportedly begin beating Jimmy.
In a video taken by Clara at the time of the incident, their children, clearly traumatized, are heard crying and screaming in terror in the car, "Don't hit him, don't hit him! Mama, my heart is going to die… I'm shaking!"
The couple was held at the scene for longer than an hour, during which the president of the Beirut Bar Association, Melhem Khalaf, arrived in support of Jimmy, a fellow lawyer.
Disturbingly, at the police station, while Jimmy was showing the video of the attack to another officer, he was attacked again, in front of everyone present, by the same officer who hit him the first time.
Despite this, the judge in charge of the case made the decision to detain Jimmy. The Beirut Bar Association (BBA) issued a statement saying that the lawyer's arrest was baseless and unlawful and called on all attorneys to go on strike on Monday in protest.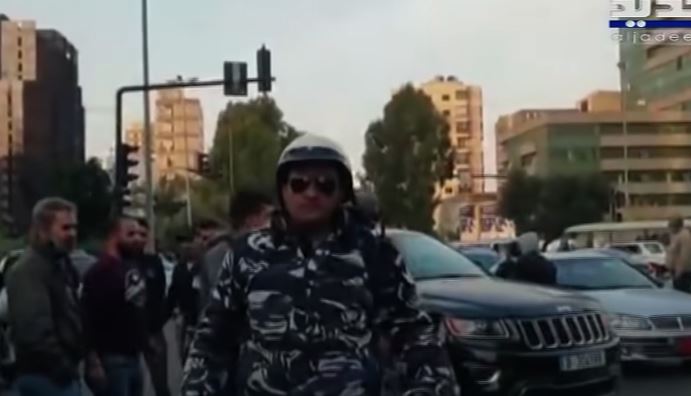 Al-Jadeed reported the incident their colleague experienced:
Many people have since stood in solidarity with Clara and her family.
Lebanon's caretaker Information Minister Manal Abdel Samad condemned the authorities' actions. "Have we become in the "law of the jungle"?" she asked.
The important question is what the government intends to do to stop, once and for all, that trend of aggression being observed more and more in the country towards civilians by those whose first duty is to protect them.
---
Our team works tirelessly to ensure Lebanese people have a reliable alternative to the politically-backed media outlets with their heavily-funded and dangerous propaganda machines. We've been detained, faced nonstop cyber attacks, censorship, attempted kidnapping, physical intimidation, and frivolous lawsuits draining our resources. Financial support from our readers keeps us fighting on your behalf. If you are financially able, please consider supporting The961's work. Support The961. Make a contribution now.