Apparently, Middle East Airlines (MEA) is still occasionally sending notifications about flights to its customers, even when Lebanon is under lockdown.
"Can you please stop rubbing this on our faces and reminding us of what we're passing through again and again?" One frustrated citizen said on Instagram, addressing MEA's official account on the social media platform.
This was after the owner of the post received a mobile notification via the MEA application.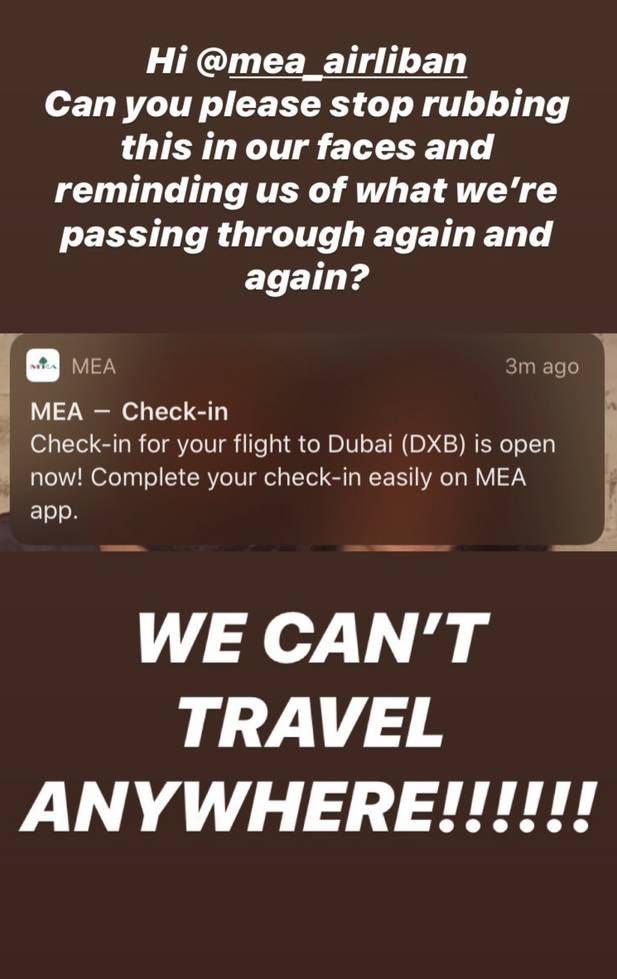 The notification was reminding the user that check-in for their flight from Beirut to Dubai was "open now."
Needless to say, the Beirut Rafik Hariri International Airport has been closed since the Lebanese government imposed a COVID-19-induced general mobilization in late March this year.
Since then, all commercial flights to and from Lebanon have been suspended, with the exception of repatriation flights.
It is unclear how frequent these notifications are for users of the MEA application but they appear to be caused by a glitch – an annoying one, at that.
Perhaps these unintended, somewhat imploring notifications reflect MEA's attitude toward its home country's temporarily inoperative airport. Naturally, the airport's closure has been costing it greatly.
According to Al-Akhbar, the airline company recently requested from Prime Minister Hassan Diab that Lebanon's international airport be opened on the 8th of June.
However, PM Diab reportedly refused to take a decision in that regard before studying the evaluation that the Ministry of Public Health will share after the 4th stage of the repatriation plan is over.
The next stage of evacuation is expected to commence next week, according to the same source.