The Lebanese Army announced that it had detained 8 individuals in relation to the dispute that led to the burning of a Syrian refugee camp in Miniyeh, northern Lebanon, and the resulting displacement of numerous refugees.
"A patrol of the Intelligence Directorate in the town of Bhannine – Miniyeh (north) arrested two Lebanese citizens and six Syrians over a personal dispute that occurred yesterday evening in the town between a group of Lebanese men and a number of Syrian workers," the army said in a statement on Sunday.
"The Lebanese men fired bullets in the air and torched the tents of Syrian refugees," the statement added.
The fire that started in the camp on Saturday destroyed its contents, forcing its 370 residents to flee the area and seek shelter elsewhere. UNHCR has since said that most of the camp's residents have found temporary shelter.
"They have relocated to nearby informal settlements… or were taken in by area residents," UNHCR spokesperson Khaled Kabbara told AFP.
"We saw a remarkable level of solidarity from the Lebanese community offering vacant shelters, including hospitals and schools," he added.
On Monday, the Al-Mir family, members of which were involved in the initial conflict, issued a statement commenting on the incident and clarifying certain points that were "shrouded in mystery."
The family affirmed that there had not been any previous disputes between them and the Syrians in the area, pointing out that they have worked together in harvesting fruits for over a decade without any issues.
"What happened yesterday was that a member of the Al-Mir family went to discuss accounts with some of the workers, so they attacked him and beat him with sticks… which required the intervention of his relatives, who were defenseless and did not carry any sharp objects," the statement said.
"More than 50 Syrian workers attacked the Al-Mir family, which provoked a response from the people of the area, and we do not know who shot in the air to deter the workers and prevent their attack on the Al-Mir family, of which more than four people were wounded with a stick or a knife, and they were unarmed."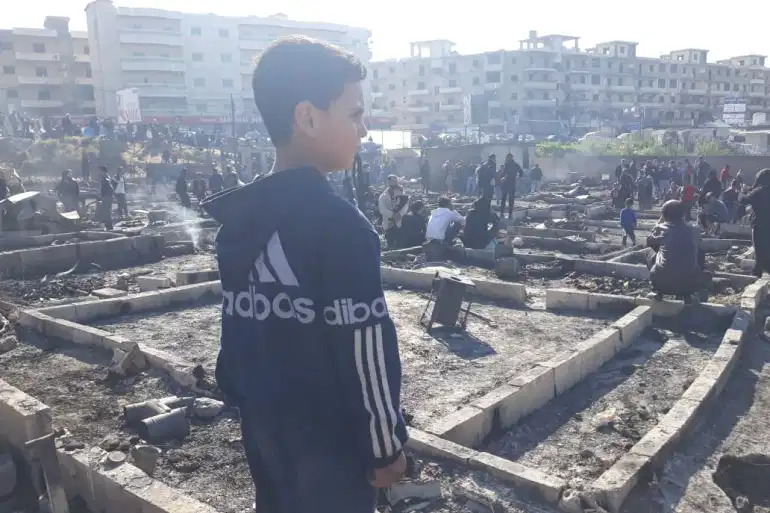 The family also denied their involvement in setting the camp on fire or shooting, expressing their trust in the authorities to uncover the perpetrators, reiterating that they stand with the Syrian people, and condemning the attack on their camp.