Disclaimer: The article contains descriptive content on the topic of the Beirut Port explosion that some readers may find triggering. Reader's discretion is advised.
For many people in Lebanon, life has paused on August 4th, 2020, and the time is still at 6:07, for the horror of that moment and day was nothing short of apocalyptic.
The mass grief, the lasting trauma, and the moral devastation with all that it entails have prevailed to date, as 961News came to hear directly from survivors.
For over 730 days, the survivors of the Beirut Blast and the families of the victims are still waiting for justice to no avail, their demands echoing in the darkness of negligence and the intransigency to protect the perpetrators.
Today, as marches speak for the victims on the streets of Beirut, survivors relive the horror of that moment carved in their minds and bodies.
961News talked to some of them, and here are their stories.
Marie-Therese Hanna
As usual, Marie-Therese was sitting in her room doing her work on the laptop. As she heard the sound of the first explosion, the windows concussed, but she thought it was one of the frequent sounds near the port.
When she got up to look from her home's window in Gemmayze, the second blast exploded. All she did was turn around and try to escape.
"When I tried to open my eyes, I thought I was dreaming. All I could see were the collapsed pieces on my body. I closed my eyes, assuming that I am still dreaming," Hanna said.
Because of the collapsed pieces on her lungs, Marie-Therese could barely breathe. When she tried to get up, she realized that one of her arms and one of her legs were under the rocks.
"All I can remember is that I was continuously praying. As I pray, I could feel more power to get up."
"When I stood and found out that I didn't lose any part of my body. I looked upwards and told Jesus 'thank you'," she added.
She could hardly walk. But all she wanted was to escape. She went to the streets barefoot, her eyesight almost gone, her leg was bleeding and she was gasping all the time.
"I was struggling, and I gave up at that moment. I opened my arms and started telling God 'I am waiting for you to come and take me.'"
Fortunately, there was a man who came later and took her to the ambulance.
After she regained consciousness, she started looking for a phone to call her family.
Although she was trying to stay awake, her situation was getting worse.
"I opened my eyes and saw a 15-year-old boy trying to wake me up, and there was Motasem Al-Nahar".
The young Syrian actor took her in his car and drove her to Al-Hayek Hospital from where she called her sister and boyfriend.
"My sister went from Verdun to my apartment walking. She thought I was under the rubble. But when she found the prints of my bloody hand on the walls and my flip-flop she knew that I was still alive."
Marie-There's suffering continued after the blast. She couldn't get up from her bed for four months. Her body was full of broken glasses as she herself removed a 25cm piece of glass from her leg without anesthesia.
"I'm a dancer and, to date I can't dance the way I used to before the accident."
She still has glass in her legs because she was barefoot, which does not show in the scanner. And the pieces cannot be removed from her leg.
"I went to many therapists, but no one helped me. A month ago, I started recovering. I always have panic attacks; I cannot see blood, hear loud sounds like airplanes or even see broken glasses."
Tatiana Hasrouty
Tatiana was with her mother, her pregnant sister, and her husband at their house in Sin El-Fil when the Beirut port blasted. "I was sleeping on my bed when I first felt an earthquake. I rushed to my mom and told her I felt the quake since I never felt one before."
Tatiana started searching for a place to hide and her mom thought that the sound was from the "Dora" area because explosions used to occur there during the civil war.
The second explosion blasted then, hurling her flying from near her bed to outside her house. "All windows were broken, the water cooler and the closet," she said.
"When they said on the TV it was at the port, we immediately called my dad. He wasn't answering."
Her dad worked at the port but he was not supposed to be at work that day since he had previously changed his shifts from Aug, 4 to the next weekend. However, things changed for him in the evening before the blast, impacting the family forever.
"At 5.30, he called us and said that he's not coming home to have lunch with us because there is a wheat ship coming tonight and he has to be there. And he never came back," Tatiana recounted.
"After a whole day, no one from the government said that there are 7 workers at the silos who were at the port during the explosion and they didn't appear. They told us that there is no equipment to search for them," she said.
"My mom was collecting the pieces of glass and continuously crying because people started to come and ask about my dad but there was no information."
Tatiana constantly called the Minister of Health, but they never provided her with any information. They weren't helping them find her father.
She said: "We were lost. Usually, when anything happens to you, you directly go to your dad, but my dad wasn't here this time. I didn't have someone to rely on when facing such a big incident."
"The government was negligent," she continued. "After my interviews on TV, people started contacting me and members of the Red Cross were updating me. A French officer was also trying to help me. After more than 10 days, they found him."
"It was traumatizing, and even after two years I still feel frustrated. I was mentally aware of what happened, but I cannot see my father's photos."
"His dream was to see me graduating this, but this government prohibited me from having my dad with me on my big day," she said.
A.K., 20 years old
"When the blast occurred, I was in one of the parking lots in Mar Mikael near The Bros restaurant." A.K. was with his brother's family. They were still in the car, and suddenly the explosion occurred.
He said: "The rear windows and the mirror broke, but thankfully the front windows opened; thus, the pressure was less."
A.K. suffered a lot mentally. "After the explosion, whenever I hear a loud sound, I was so on high alert and full of terror because loud sounds used to bring back all the painful memories," he said.
He visited a psychotherapist to help him cope with his feelings. According to him, she was of great help to him since she provided him with tips to minimize his high alert situation.
"Now I'm capable of comforting myself, even though I'm still on high alert in some situations. I tell myself that I'm still here, I'm safe."
"But, nowadays, nothing is certain in Lebanon, and, at any moment, an explosion might happen," he said, expressing what too many in Lebanon feel as they continue to live with the lasting trauma of the Beirut Blast.
L.H., 19 years old
L.H. was at home in Mar Mikhael with her friend studying for their upcoming SAT exams. As soon as they heard the blast, they ran to L.H.'s dad asking him what happened.
The father tried to calm them down, saying it was an airplane sound. Nevertheless, they went to the corridor to hide as they feared that something might happen.
Her father and her younger brother stood near the window to check what was happening, and the second and stronger explosion blew up, hurling the father flying from one place to another. Doors shattered, hitting him in the head and injuring him.
L.H., her friend, her mother, and her brother all fell over each other in the corridor. Her brother was on the top and two doors of the nearby rooms fell on him. He was the most injured among them.
"Thankfully, my friend's mother was near our home. She came and took my mom, me, and my friend to the hospital. We went to hospitals in four areas and ended up in Batroun. We couldn't find a hospital easily. They were all crowded."
"My uncle came and took my father and brother. They also struggled to find a hospital."
Her dad had a severe wound on his head and her brother's body was all hurt.
"No one helped us, neither the Lebanese government nor the NGOs. Everything you see on TV is a lie. NGOs continuously came to our house to collect data, but they never came back to offer real support. Also, our neighbors never received any help."
"Once an NGO came and offered to fix the doors only; however, they were miserable. It was really bad quality and, what they did was just pretending to help, but they didn't," she said.
L.H. lived with her trauma for a while. In the beginning, she and her brother were always scared to stay or sleep alone. Now she is still getting terrified when she hears the slam of a door or fireworks sounds.
"If I hear any noise, I am frightened and start thinking, what if another explosion happens? If such a big blast happened, another one is possible."
"Whenever I remember what happened that day, I constantly think, I may have gone. I might have been dead before even achieving anything in my life. That really scares me," she said.
Hussein Haidar
"I was at work near the port with five friends when we heard the sound of the first explosion. We ran downstairs to check what was happening. My friend started filming the smoke, and we were all staring at the scary scene," Hussein said.
A few moments later, when they saw the smoke, he and all his friends tried to escape.
"After that moment, I don't remember anything. All I can remember is that the security men came, put us in a van, and took us to the nearest hospital."
Four of the five guys, including Hussein, were severely injured.
Hussein spent a whole week at the hospital. The glass pieces entered all of his head. The strings in his arms ripped apart. He had surgery to fix them.
Now he lives with a hand full of metals, after doing several months of physiotherapy to regain some function.
And he still has a piece of glass in his eye.
"This glass piece cannot be gone. It will stay in my eye, and no surgery can remove it. The doctor told me that it's not dangerous."
"A month ago, there were also glass pieces that came out of my forehead and eyes after two years," he said.
Firstly, the government covered his hospital bills, but later, he had to pay for everything. Hussein was capable of overcoming the incident mentally, but he gave up on this government, and his only wish now is to leave the country.
S.K., in her sixties, Mar Mikhael
In the first moments of the explosion, S.K. did not understand what happened and did not even feel that she was injured, although, as she told 961News, the shattered glass smashed her face, back, and legs.
As for what she saw when she went down to the street, it was a new shock to her: A sea of blood, screams, and cries everywhere.
"I didn't know how to act," she said. A stranger showed up and told her to get into his car to take her to the hospital.
"We toured three hospitals, but they were all destroyed, and there were victims in front of the hospitals on the roads. I could not find a place to treat my injuries in Beirut hospitals until I was able to treat myself in a hospital near Beirut."
She said that when she saw the destruction in hospitals and the large number of victims, she began to wonder about the power of this explosion.
S.M., a nurse in her thirties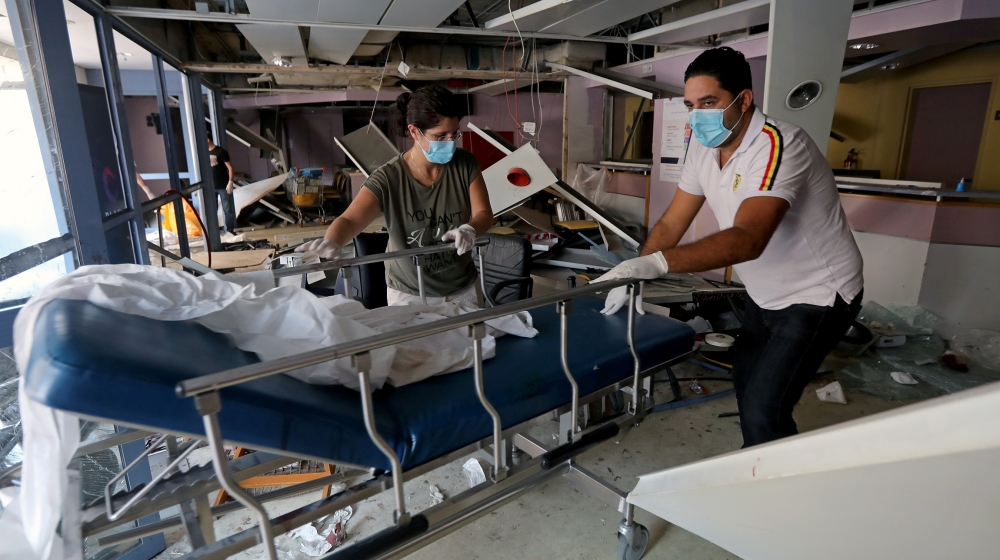 "It was a normal working day at the hospital in Ashrafieh, when we suddenly heard a small explosion, and we saw black smoke towards the port," S.M. said.
"I went out of a patient's room to the corridor that connects the patients' rooms, and I suddenly heard a strong bang, and the whole building shook us."
"As a first reaction, I put my hands on my head, and a part of the ceiling fell on me, and the glass scattered from all sides. I did not expect to see any of my colleagues alive," she said.
S.M. tried to remove the rubble from her, ignoring her own injuries, and ran to see the 20 patients on the floor where she worked.
"Blood was everywhere," the nurse described what she saw in the patients' rooms. "My colleagues and I forgot about our injuries and wounds, and we started to treat the patients with all our strength and ability in a destroyed place."
"At first, I took the injured patients who could walk out of the building." The emergency rooms, S.K. said, were destroyed, without electricity, the bodies of the victims were on the ground, and the wounded were everywhere.
"Imagine that the wounded were coming to the emergency rooms from outside and inside the hospital."
She added that "the medical staff was unable to treat patients who needed oxygen…"
Ali Hareb
Ali was with his colleague and manager at the office working on a normal day. The office was all glass and it was sound-deterrent. However, they could hear sounds coming from the port.
After the first explosion, the building started shaking and then the building collapsed.
"We all flew from our places. My colleague and I had glasses in our body, and our manager was fully injured," he said.
"My friend from the Red Cross came and when she saw my manager's look she told her not to look at her body because she was severely injured and full of blood."
While they were trying to escape the building, two military men told them that there is another ship full of benzine that might also burn.
"When we went down the streets, we were unable to go anywhere because rocks were all over the streets even though there were cars working. And while we were there a Philippine girl stopped us and asked for help."
The Philippine girl's eye was gone, but they couldn't tell her. She was lost and didn't know what happened. Hareb and his colleagues helped her to reach the Red Cross.
"After the blast, I spent several days having nightmares. I was getting scared of any sound, fearing that another explosion might happen," Hareb said.
"The government didn't help us in anything," he said, "our company supported us and offered us sessions with psychologists to overcome the trauma we had."
G.K., 36 years old
The young man in his thirties, G.K., struggled in despair to save his family living in the vicinity of the port.
G.K. said: "I tried first to contact my family, but the network wasn't working. So I rushed to them, but the scale of destruction and the bodies of the dead prevented me from reaching them at first. The shock was very great."
He continued, "Our house has become without walls, and I rescued my family from under the rubble, and some helped me to transfer them to the hospital in critical condition."
G.K. added in tears: "We had no choice but to set up tents and sleep in the street back then."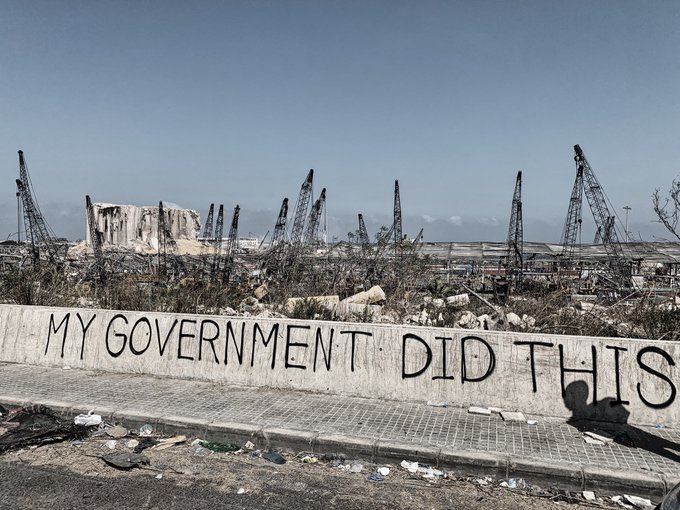 Living in peace and security after knowing the identity of every criminal who stands behind one of the world's biggest tragedies and holding them accountable is what the Lebanese people demand today.
The spectacle of fear, death, and destruction will accompany the survivors and everyone in Lebanon forever. That is not a mass trauma easy to forget. What the Lebanese experienced that day was a painful and apocalyptic nightmare.
Related: The 244+ Beirut Blast Victims, Remember Their Names