Inside information has been circulating that leader of the Tayyar party and minister Gebran Bassil reportedly signed an enormous contract with a highly reputable company to improve his public image.
Since the uprising of the Lebanese people on October 17th of 2019, to date, Bassil has gained a politically undesirable reputation, locally and internationally, due to massive public accusations of corruption and the likes.
The company that he reportedly hired to fix and manage his reputation is none other than Société Image 7, a highly effective and likewise expensive company that Carlos Ghosn is said to be using since his scandal broke.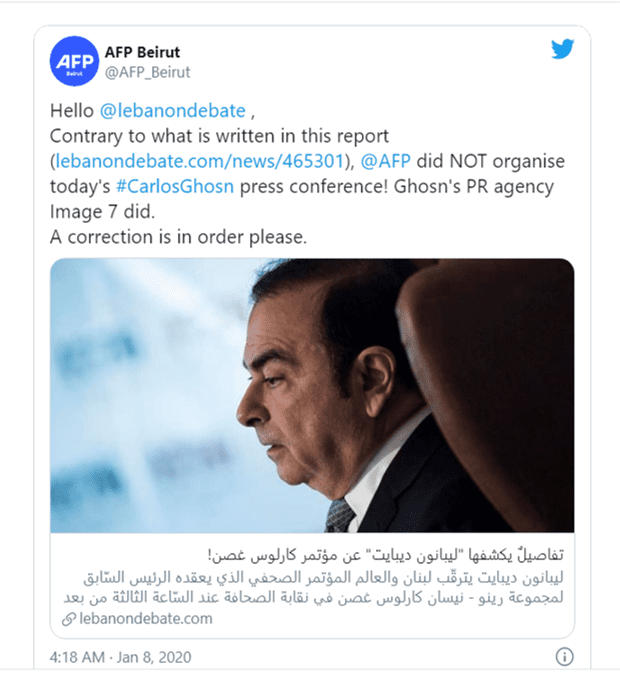 Société Image 7, owned by Anne Meaux, is specialized in media strategies directed to improving the image of public figures, especially after scandals and such.
Its strategies include responding to media attacks through specific articles, tweets, and propaganda.
Anne Méaux, who founded the company in 1988, advises big names in France and England and is sought internationally.
Her career debuted at the Elysée's press office, assisting back-then French President Valéry Giscard d'Estaing.
She then served as the communication officer for the same French president, the UDF parliamentary group, and the French Minister of Industry Alain Madelin, consecutively.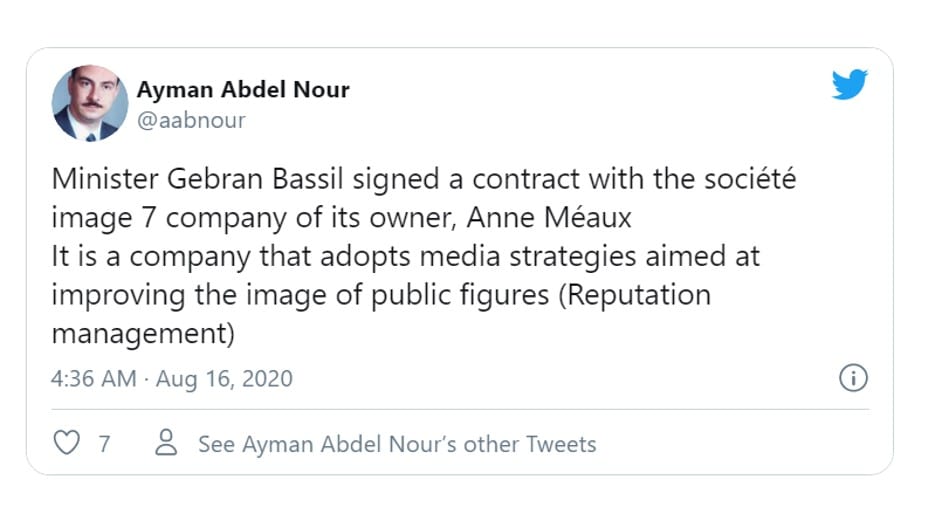 It is no secret to any that Gebran Bassil is aspiring to the presidential seat, although he claimed recently that he 'doesn't want to be president.'
He also claimed that he has been a target of a "political assassination" campaign of his character.
Fact is, the revolution hasn't spared any political leader, demanding that "all means all" must step down and be held accountable for corruption and the mess they brought the country into.
That demand has become even more of a priority to the people ever since the explosion of Beirut Port that has wrecked the capital and killed over 170 people.
Ever since Bassil's young son posted his video on Instagram about him being cyberbullied, people questioned if that wasn't part of the "reputation-cleaning campaign" of the father using his son.
The video went viral earlier this week, touching a sensitive chord with the Lebanese who are, culturally, overprotective of their children. The 14-year-old boy claimed to be bullied because of his father and asked "What did I do?"
The claim of Bassil's contract with Societe Image 7 came right after and pointed out that his son's video could be part of a deceitful strategy to incite sympathy towards the son, hence his father by relation.
People were quick to note, though, that the social media platform the son chose to publicly state the bullying was questionable…
Some Lebanese Twitter users are further sarcastically claiming that Bassil has been ripped off by the reputation-management agency as they can see the truth:
Whether these claims are accurate or not, from the hiring of the expensive agency to using the son as a strategy, would that be enough to stop the people to hold Bassil and the officials accountable?
Would that stop them from attacking him and all those deemed responsible for the long-lingering crises that have brought so much suffering to the nation?
Apparently not.
The accusations continue massively on social media and the protests don't seem to want to stop.
The people want justice and they want a capable ruling body free of corruption and with only Lebanon's high interest in their agenda.
Image 7 wasn't immediately available for comment to The961 or to confirm the validity of the statement denying affiliation being circulated on social media.
On August 21st, The961 received the following statement by Image7 denying working with Gebran Bassil. We have yet to hear back from Bassil's office.
Disclaimer – 21/08/2020: We have updated the article to include the Image7's statement received today denying working with Gebran Bassil.