Lebanese characters in comics seem to have become a new appealing trend in the West. Just a few weeks ago, DC gave the word the first Lebanese DC superhero, Simon Baz, one of the new Green Lanterns.
A month earlier, we had the delight to watch a new Disney show, The Rocketeer, representing Lebanese Culture.
This march, it is Marvel that has released a new Lebanese superhero in the Magnificent Ms. Marvel #13, diversifying the comic industry even more.
And like in The Rocketeer, a Sitti (grandma) has her special place with this Marvel Lebanese superhero named Amulet.
Amulet was brought to life by Saladin Ahmed, an award-winning comic writer born in Detroit, Michigan. of Lebanese, Egyptian, Irish, and Polish descent. He obviously seems to stand more for his Lebanese side.
In attempts to represent his heritage, Saladin Ahmed joined forces with the popular Jordanian-American illustrator, Sara Alfageeh, to create this Lebanese Muslim superhero.
"This one means a lot to me," Ahmed said. "Superhero comics helped teach me to read, but as an Arab American kid, I never quite saw myself in them."
"To be able to add a character with a name like mine, that shares my heritage and my hometown to this pantheon … whew!" He exclaimed.
Amulet's real name is Fadi Fadlallah. He is a hulking plus-size superhero, with fiery blue hair, bright-blue costume, and glowing hands.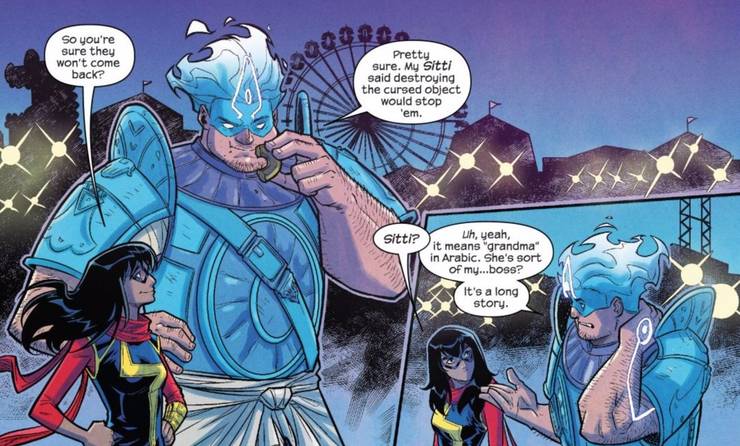 He is a high schooler from Dearborn, Michigan, living with his grandma. In addition to the palet colors, his round shape makes him look extra friendly.
Sara Alfageeh explained: "We tend to associate sharp corners and edges with evil and rounded designs and circles with good. This character is a gentle giant, so I wanted to make sure that, even with his size, he was shaped like a friend."
"The blue and white color palette and the circular design were pulled from the Nazar, a symbol that pops up all over the Middle East that protects the wearer from the evil eye, the harmful intentions of others," Alfageeh elaborated.
"[It's] a bit of a historical, supernatural touch," she added.
Amulets' superpower comes from a family heirloom (amulet) that gives him the power to ward off evil. He carries the amulet for protection around his neck.
"We talked about his defensive-style powers and how they tied into his background as a Lebanese kid," Alfageeh said.
Throughout his conversations in Magnificent Ms. Marvel #13, Amulet reveals a few things about himself. The first was that his grandmother (Sitti) is his boss.
Sitti is a Lebanese word that means "my grandma" and is also used in the common speaking in some middle eastern traditions where grandmothers are usually the Matron of the family, an authority in charge of all domestic matters.
Ms. Marvel and Amulet both seem to share a cultural understanding of family and this is believed to be bringing them closer together in upcoming issues.
This superhero brings more diversity to the Marvel world for being both Lebanese and Muslim; a combination rarely found in comics.