Tripoli, the ancient and largest city in northern Lebanon, has a great reputation for producing the best Lebanese sweets in the region.
The people of Tripoli have a great sweet tooth, which explains the presence of numerous pastry shops in the district.
From French to Lebanese sweets, the traditional and the innovative, here is a list of amazing pastry shops that are totally worth the drive to Tripoli:
#1 Dipndip
A "chocolate cafe" as this pastry store in Tripoli is dubbed, the place serves delicious crepes and innovative desserts where chocolate is king. It's located on Aashir El Dayeh Street.
#2 Sara Et Karim
A friendly homey place to go to for coffee and dessert (and also a nice breakfast and pasta), Sara & Karim is located in El-Maarad Street, near the Nini Hospital.
#3 Al-Tom Delights
For fancy Lebanese traditional desserts, you got to head to Al-Tom Delights, a long-established Tripolitan sweet parlor that has also expanded to sell its wide range of sweets across Lebanon. In Tripoli, it is located on Nadim Al Jesr Street.
#4 Sit n Dip
Another dessert and crepes parlor with innovative deliciousness for chocolate lovers in Tripoli is Sit n Dip on Aashir El Dayeh Street. You might want to try their waffles bathed in chocolate and topped with fresh strawberries!
#5 قصر الحلو Hallab 1881
It's impossible to visit Tripoli without trying at least once Hallab 1881, the Palace of Desserts, one of the oldest pastry shops in the country. It also serves delicious local specialties like the Tripolitan Lahm B-Ajeen and Knefeh Bil Ashta, as well as traditional Lebanese meals.
The pastry shop has long expanded its operation to multiple locations across Lebanon and also abroad but it all started in Riad El Solh street in Tripoli where it continues to operate.
#6 Primola
Located on Nadim El Jesr Street, facing Point Cave, Primola is a dessert and ice-cream parlor offering a variety of both, and a tempting mix of both like their Ashta Ice-cream cake.
#7 Fresco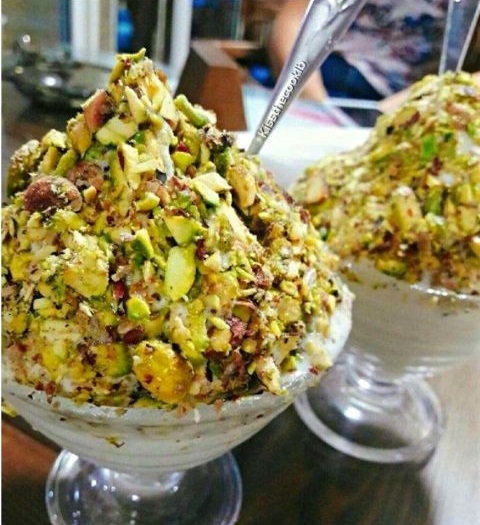 As its name suggests, Fresco is a place to go for refreshing sweetness. like Lebanese Ashta ice cream and fresh juices, and also desserts. It is located on Corniche Al Baher in Al-Mina.
#8 Rafaat Hallab 1881, El-Tall Street
Specializing in desserts and pastries, Rafaat Hallab 1881 is similarly famous for its finest Lebanese pastries. Based in Tripoli with multiple branches in Lebanon, it also produces diet products for the ones wanting to indulge guiltlessly in these confectioneries.
#9 Pâtisserie Leroux
Le Roux is famous for its original cakes and glamorous pastries. Located near El Maraad street in Tripoli, the pastry shop also has appetizing cinnamon rolls for you to savor!
#10 Bouche Sucrée
Found on El-Mina street in Tripoli, Bouche Sucrée is also an expert when it comes to making extravagant yet delicious pastries.
#11 Sabbagh Bros
Sabbagh Bros are pioneers in producing one of the best pastries in Lebanon. From the Tripolitan pizza meat to Znoud El Sett, this pastry shop is a "jack of all traits" when it comes to producing the tastiest delicacies. The shop is located on Port Saiid Street, in front of Como Store.
#12 The Sweet Spot
Another pastry shop to add to your list is The Sweet Spot that is located on Akram Ouayda street in Tripoli. The dessert parlor offers mouthwatering waffles dipped in chocolate and other pastries.
#13 Kookie's Bakery
The bakery is located on Al-Mina Street and serves a wide range of confectioneries, including their unique labneh tart, red velvet cake, and lemon meringue.
#14 Orchidée Maison du Chocolat
The pastry shop is found on Iskandar Ghorayeb Street, behind Tripoli's City Complex, and it serves a variety of French pastries and Lebanese desserts and some innovative mixed recipes of both French and Lebanese.
#15 Loqma
If you haven't yet tried the Loqma's fluffy and light sweet served warm and topped with saucy chocolate or caramel, it is well past time you do so. Just a warning: you will get addicted to them! Loqma is located on Salah El-Din Qabbara Street.
#16 Tlaiss Bakery
Located next to the Centre Ville Mall, Tlaiss Bakery is a cute bakery that serves a whole range of Lebanese delicacies as well as all kinds of savory mouajjanats.
#17 Tayba Bakery
Located on Cheikh Abdul Latif Ziadeh roundabout, Tayba bakery serves a great selection of French and Lebanese pastries.
#18 Cocadas Lebanon
You can find Cocadas, this hip pastry shop of tempting desserts, near the roundabout of Cheikh Hassan Khaled in Tripoli.
#19 Crazy Crêpe
A nice place with outdoor sitting to enjoy delicious crepes is on Al Balha Street in Tripoli. Crazy Crepe also serves different types of waffles and pancakes.
#20 Patisserie La Madeleine
Patisserie La Madeleine specializes in flavorful pastries of all kinds. Its location is on Doctor's Syndicate Street in Al-Mina.