Lebanon recorded 4,594 new coronavirus (COVID-19) cases on Thursday, the Health Ministry confirmed.
In its daily report on the epidemic, the Ministry revealed that 67 had passed away in the past 24 hours, raising the total number of virus-related fatalities in Lebanon since the beginning of the pandemic in February 2020 to 2,151.
On the other hand, the number of full recoveries registered so far has grown to 158,822 after 1,620 cases recovered between Wednesday and Thursday.
This puts active cases at 108,268 out of the 269,241 total cases confirmed since February.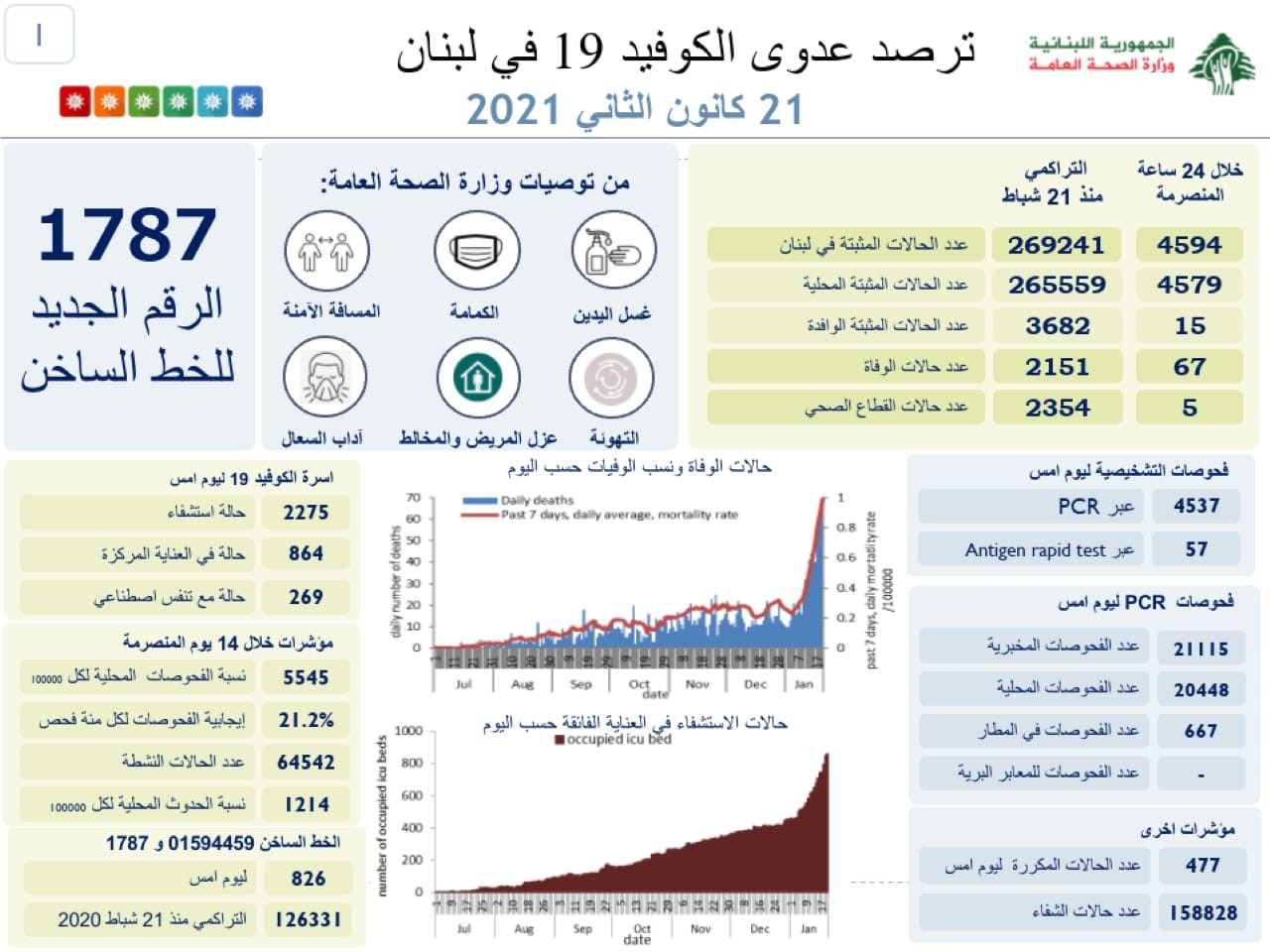 In light of the growing infections and increasing fatalities, the Coronavirus Follow-Up Committee recommended on Wednesday the extension of the ongoing lockdown for 2 more weeks.
This, according to the head of Rafik Hariri University Hospital, Firass Abiad, was based on two essential matters.
The first of these is assessing the current situation of the spread of community-based infections, and the second is "assessing the current capacity of the health system to absorb patients and respond to the requirements of the current and future stage."
On Thursday, the scientific committee's recommendation was implemented, and the lockdown, along with the all-day curfew, was extended for 2 more weeks, until February 8th as the Health Ministry had confirmed 4,359 COVID-19 cases and 61 fatalities on Wednesday.
We have a dedicated coronavirus section where you can find the latest news/updates about the pandemic in Lebanon, inform yourself with WHO-verified resources, and track the number of cases in Lebanon in real-time. Click here.