After gliding by the Sun, the newly-discovered Comet NEOWISE provided the perfect opportunity for Lebanese Astrophotographer, Maroun Habib, to take a wonderful photo that made it to NASA's Astronomy Picture of the Day (APOD).
Habib, who has been routinely watching the night sky for years, was ready and waiting when the comet survived its close encounter with the Sun, late last week.
As it got closer to Earth, Comet C/2020 F3 (NEOWISE), brightened and became visible to the naked eye, a few months after being discovered in March this year.
The "dark skies junkie," as he describes himself, told The961 that to capture the photo, he had to wake up at 3 AM, search for the perfect spot for a clear view of the comet, before finally setting up and preparing his telescope and equipment.
Additionally, he had to win the critical race of capturing the comet as it became visible from behind the mountain tops before the sun could catch up with it and kill its visibility at sunrise.
Evidently, his efforts produced the results he strived for, and his photo got featured on the APOD, which he deemed very honorable.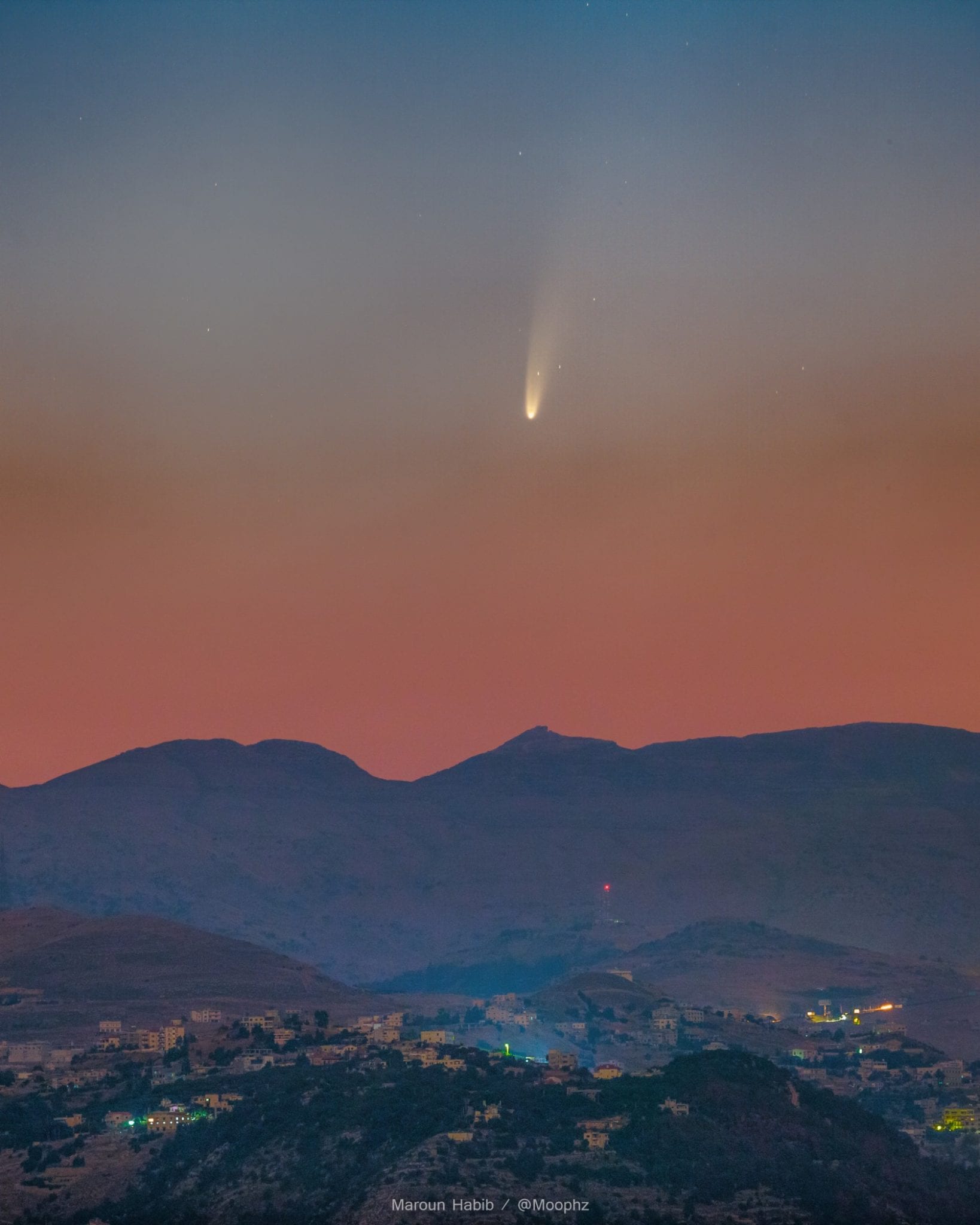 "What drew [NASA's] attention was that the photo showed both ground and sky," he said, explaining that most comet images are usually taken with relative neglect toward ground scenery.
While the Comet NEOWISE picture is not the first appearance of Maroun Habib's work on NASA's APOD, the fact that the website uncommonly mentioned the country wherein it was taken (Lebanon) in its caption, signifies its prominence.
In 2018, he took a challenging but brilliant picture that encapsulated the entirety of the Milky Way Galaxy by combining two photos, captured 6 months apart, into one that combined the northern and southern hemispheres.
This was a few months before his name returned to APOD in September with Salt, Pepper, and Ice: A video that showed a different comet (Giacobini–Zinner) as it drifted through space.
The astrophotographer, who aspires to be an astrophysicist, regularly takes amazing photos of constellations, nebulae, and deep space sceneries, as well as closer bodies such as the Moon, and more "down-to-earth" phenomena such as auroras and lightning.
Maroun Habib noted that Comet NEOWISE is the first "estimable" comet he has seen with his unaided eyes since the famous Comet Hale-Bopp reached its closest approach to Earth in 1997.
If it survives in space until then, NEOWISE is expected to make a very bright appearance on July 27th, when it should be possible to view it before sunset.
If that does happen, "we will have something very beautiful," Habib said. No doubt!