The961 recently shared an old photograph of a woman on her balcony peeling potatoes, with a little girl sitting by her side. Beyond the foreground, ruins of war-torn buildings cannot be overlooked.
Upon seeing the familiar picture, Muhammad Baghdadi commented, "This was in July 1981, after Israel bombed areas in Beirut," he says, "This is my mother and my elder sister."
The Serendipity of Finding the Photograph
The Baghdadi family first became aware of this image when it appears on Facebook. On one page, the users uploaded it falsely claiming it was taken in Syria.
Alaa, Muhammad's younger sister, was quick to point out, "Isn't that mama?" Alaa didn't even know the photograph existed but could notice how similar the woman was to her mother. She could also see her niece in the little girl, who was actually her sister Lama.
Their mother, Najwa, had forgotten all about the picture and could barely recognize herself or her daughter.
However, the family instantly realized they were looking at a picture of the view from their own balcony.
"The funny thing is that the view behind my mother is still the same, no change. Lebanese governments did not do anything since then…. despite the several visits of many ministers and their unmet promises," Muhammad tells The961.
This is, unfortunately, the case of many neighborhoods marred by marks and bruises from the civil war. Bulletholes, broken glass, burn marks – most of it still remains.
The 1981 Bombing & The Baghdadi Building
On Friday, July 17, 1981, Israel bombed targets across Lebanon, mainly aimed at Muslim districts where the Palestine Liberation Organization (PLO) offices were.
One particular street was Rue Baghdadi in the Fakehani district. The street was named after the Baghdadi family, who had been residing in the area for generations.
Najwa remembers, "We heard a loud noise," she said, "I rushed to gather my two children, Mustafa, who had been on the top floor in his late grandfather's apartment, and Lama, who was around three years old at the time."
"We were spared at the last minute as a bomb came crashing down on us as soon as we got to shelter," she continued, "It felt like the world had ended."
The bombs devastated several houses on Baghdadi Street and demolished a quarter of the family's seven-story building.
"The building was my grandfather's," Muhammad explains to us, "Everyone was glad that he didn't live to see it get destroyed."
Initially, the building had four apartments on every level. After the bombs, there were only three apartments left on each floor.
"The reason why Israel bombed [it] was that Abu Ammar (Yasser Arafat) was staying [in] the building next to us, and our building was tall, so they had to bring down one-fourth of it to reach [their target]," he said.
Najwa recalled hearing a report in which Israel said it hadn't intended to wreck the Baghdadi building, but only trying to make space to be able to attack the PLO offices.
There was one fatality from the Baghdadi building. He was an old man who couldn't get fast enough for safety. The rest of the residents were able to shelter themselves after hearing the warplanes. However, tenants in the houses surrounding Baghdadi building perished.
"Funny enough, all the exterior walls of the top floor had crumbled but the roof and the chandelier hanging from it remained intact. It was as if the roof was levitating," said Muhammad.
The roof was later removed for safety purposes, and the chandelier now hangs in the house of Muhammad's aunt.
Taking the Photograph
Due to the destruction, Najwa and her husband had to stay elsewhere. One day, they went to check up on their home and bought a bag of potatoes on the way.
As a result of the bombs, their home no longer had a front door. This made it easy for a photographer to approach the Baghdadis and ask for pictures of their home.
"The photographer was European, either Danish or Dutch or maybe Spanish," Najwa was uncertain. "We had to talk with signals. I saw his camera and thought I'd take him to the balcony so he can see the collapsed buildings outside."
But, somehow, Najwa and her daughter Lama became a part of the scene. "He saw I had potatoes spread out on a tray and gestured me to peel some for a photo and Lama just happened to be standing there with me."
Interestingly, Muhammad said that his mother Najwa was not even veiled at the time. The photographer told her to put on a scarf so to portray that the picture is being taken in a Muslim neighborhood.
Living With Trauma
"Concerning the potatoes," Muhammad explained, "the photographer asked mom to do so, to show that life goes on."
Indeed life does go on. But of course, it is not without lifelong trauma.
Lama, who lives in Abu Dhabi with her husband and their four children, has been suffering the consequences of trauma.
With several health complications, Lama has to go every 4 weeks to get treatment to control her autoimmune disease.
"I feel like I've never left the war. The war in Lebanon may have ended, but now I have a war with my own body," Lama tells The961, "My antibodies are fighting me."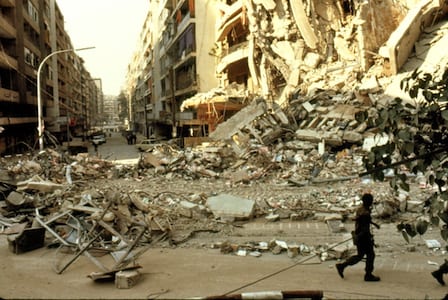 Lama says she loves Lebanon but that every time she visits, something terrible happens. "I thought I was stronger than this, but even loud sounds, like the sound of airplanes passing overhead, can be a trigger for stress."
Life Goes On.
Lama's family gives her joy, and she is well-traveled, friendly, and loves to entertain people in her home. Teita Najwa is a proud mother of four and a grandmother of 11.
Lifes goes on, but the memories remain.
Special thanks to Muhammad Baghdadi for helping write the true story of this long lost photograph.