To celebrate Elie Saab's outstanding global success and passionate devotion to his home country, Lebanon's national post office LibanPost printed a limited set of collectible postage stamps, bearing the fashion designer's name and picture.
In addition to showing the Elie Saab postage stamp for the first time, of which 100,000 copies were printed later, a limited set of beautiful "First Edition" wooden boxes were revealed back in 2018.
Only 200 of these collectible boxes were made. Each box showcased 5 unique Elie Saab postage stickers, stored in a protective layer of plexiglass.
Those and Elie Saab's main commemorative postage stamp, titled Elie Saab – Le Timbre (Elie Saab – The Stamp), were unveiled in an exhibition at Beit Beirut in 2018 to recognize the world-famous couturier and his great achievements.
Under the patronage of then-Prime Minister Saad Hariri, the event was attended by many national and international celebrities, artists, and friends of Elie Saab, in addition to local and global media.
Although he is usually known to refrain from attending similar celebrations held in his honor, Saab was eager to be present for this one due to its national aspect and direct connection to his beloved Lebanon.
After giving their respective speeches, former PM Saad Hariri and LibanPost Chairman & Managing Director Khalil Daoud, together with Elie Saab, unveiled the framed postage sticker.
Notably, the photo on the stamp was personally chosen by Elie Saab.
Saab then received an honorary shield from Hariri, after which he spoke before the attendants and expressed his gratitude for the celebration.
He also dedicated the commemoration to "all Lebanese creators in Lebanon and the world," and stressed, "each of us is able to make a difference at all times and in all circumstances."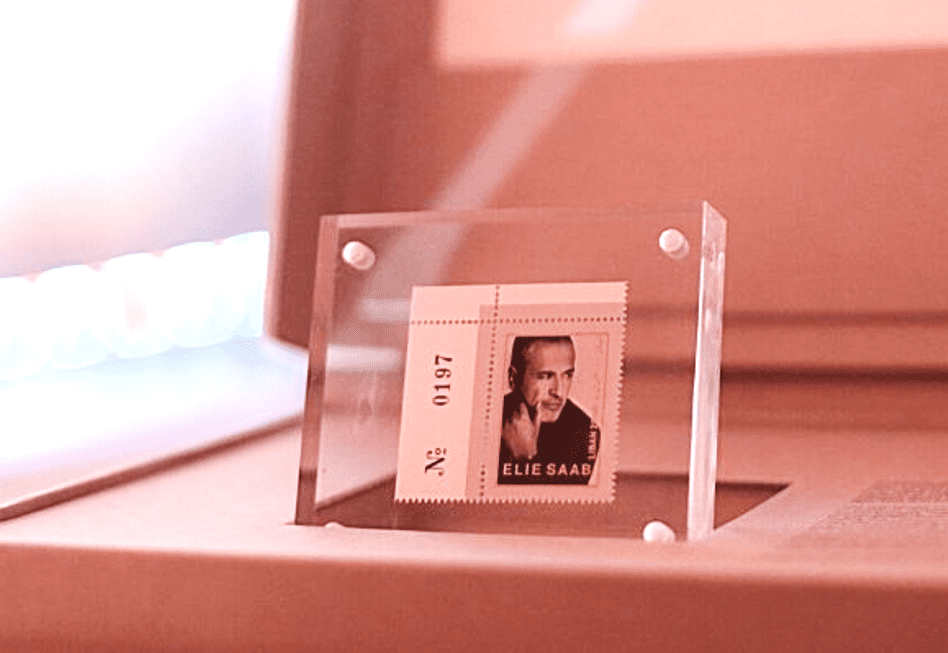 Elie Saab has always been an icon of hope and innovation for the Lebanese youth and a source of pride for every Lebanese citizen in the world.
An epitome of glorious elegance for decades now, his name alone has been an ambassador to the world of the best aspect of Lebanon: beauty, grace, distinction, and creativity.