Lebanon is one of the richest countries in the region in terms of natural wonders and biodiversity. The country boasts stunning flora and fauna to discover all year long, making it among the 36 global hotspots for biodiversity
Whether visiting Lebanon during any of its 4 seasons, locals and nature lovers alike can have the most exciting time discovering the country's many nature reserves, breathing fresh air, and connecting with nature.
Here are some of these Lebanese reserves that you should visit this season to immerse in their fall wonders:
Horsh Ehden Nature Reserve
The Horsh Ehden Nature Reserve is 1,700 hectares of rich land, unique broadleaf trees, and a space hosting a mesmerizing forest view at a high altitude between 1,200m to 2,000m.
This reserve is also one of the most biodiverse in the Middle East!
Bentael Nature Reserve
Situated in the hills of Byblos, Northern Lebanon, the Bentael Nature Reserve is a stunning destination to visit this fall season. It is also Lebanon's first nature reserve, displaying its rich woodland and agriculture since 1981.
Jabal Moussa Nature Reserve
This heavenly area in the Kesserwan District is a part of the UNESCO Biosphere Reserve. Located about 50km from Beirut, the reserve is rich in biodiversity, vibrant colors during the fall season, and a breathtaking view of the Mediterranean sea.
Al Shouf Cedar Nature Reserve
Located in Mount Lebanon, on the slopes of the Barouk and Niha mountains, Al Shouf Cedar Nature Reserve is one of the largest nature reserves in the Shouf area, one of the oldest forests in history, and home to 32 species of wild mammals, 9 of them considered rare.
JAJ Cedars Forest Natural Reserve
Situated in the village of Jaj, 68 km Northern of Beirut, the JAJ Cedars Forest Natural Reserve contains more than 600 species of trees and plants, including 3 types of flowers and butterflies native to JAJ.
So if you are a sucker for nature, you must visit this nature reserve before the fall season ends!
Yammouneh Nature Reserve
Take a road trip to the Baalbeck-Hermel governorate and go to the Yammouneh Nature Reserve, a rich reserve known for its old junipers, 14 water springs, and a large number of native species.
Tannourine Cedars Nature Reserve
The Tannourine Cedar Forest Nature Reserve protects within its borders a dense cedar forest, accounting for 80% of the reserve's trees, which exceeds 2,500,000 trees, making it a mesmerizing destination this season!
Karm Chbat Nature Reserve
The Karm Chbat Nature Reserve is situated at the heights of the village of Kobayat in Akkar, north Lebanon, with an estimated area of around 520 hectares.
This nature reserve has a rich biodiversity, as it is home to several species of trees, namely old Cedars, Junipers, Turkish oaks, and rare animals like squirrels, foxes, hyenas, wolves, and more!
Wadi Hujair Nature Reserve
If you are a nature enthusiast, then you should visit the Wadi Hujair Nature Reserve in Southern Lebanon to marvel at its Oak and Valonia trees.
Mount Hermon Nature Reserve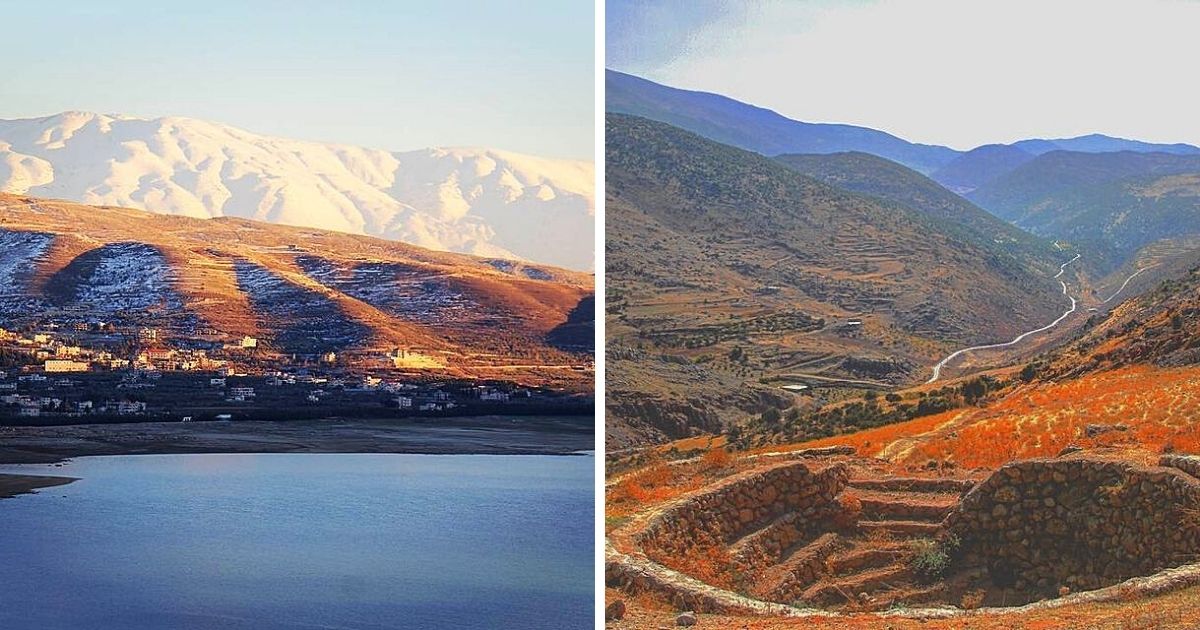 The Mount Hermon Nature reserve is a natural landmark in Lebanon. It is the country's newest nature reserve, making it the 18th in Lebanon as of 2021.
The reserve offers a panoramic view over the horizon, as well as a hiking spot, and offers a stunning sight of the Milky Way.
Chnaniir Nature Reserve
Located in the Kesserwan District, a 5 minutes drive up from the Jounieh highway, the breathtaking Chnaniir Nature Reserve is a perfect destination to enjoy the surrounding landscapes, Pine and Oak trees, and stunning hiking trails.
Related: 11 Magical Waterfalls In Lebanon You Should Visit Before The Fall Season Ends